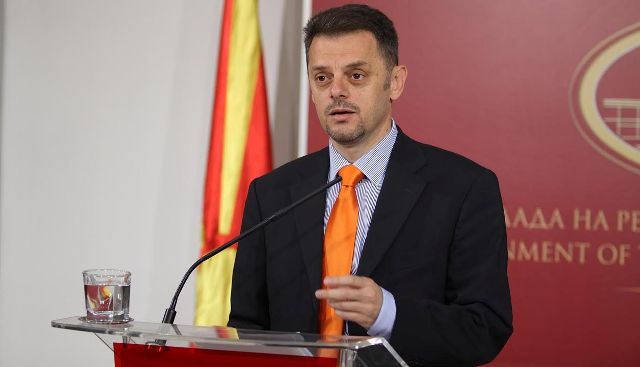 Skopje, 15 June 2016/Independent Balkan News Agency
By Naser Pajaziti
Zoran Stavrevski, one of the closest collaborators of the former Prime Minister and leader of VMRO-DPMNE, Nikola Gruevski has resigned from the post of deputy prime minister and minister of Finance.
"The health problems that I'm facing and the doctor's advices make it impossible for me to continue my duty as minister of Finance and deputy Prime Minister of the Republic of Macedonia", the statement of the resigning Finance Minister says.
In the past ten years of VMRO-DPMNE's government, he held the highest governing positions, being one of the key people behind the economic program of former PM Gruevski.
He says his team of collaborators has worked a lot and has yielded many results such as the reduction of unemployment, improvement of the business environment, economic growth, export and the implementation of macro-economic and financial policies.
The vice chairman of the opposition party SDSM, Damjan Mancevski declared after the news of resignation of Zoran Stavrevski, that one of the key players of the regime left the ship that is sinking.
"Zoran Stavrevski, who has known for a long time that the economy is being ruined and the citizens being impoverished. Everything has a beginning and an end. The end of the regime is near", Mancevski said.
But VMRO-DPMNE has reacted against the opposition's accusations, by saying that the resigning minister of Finance has been the mastermind of the economic developments of the country, by creating new jobs, reforming tax policies, attraction of investments and the improvement of the business environment.
Stavrevski has been at the center of several registered conversations made public by the opposition. In one of them, with the former minister of Interior, Gordana Jankulovska, he admits that the country is heading to a crisis and accuses the party's policies and several of his fellow party men for massive abuses with power and government funds.
Meanwhile, Stavrevski is expected to be replaced by Kiril Minovski, head of the Tax Directorate. Stavrevski's resignation is expected to be voted in parliament and MPs are also expected to vote the appointment of the new minister. /balkaneu.com/