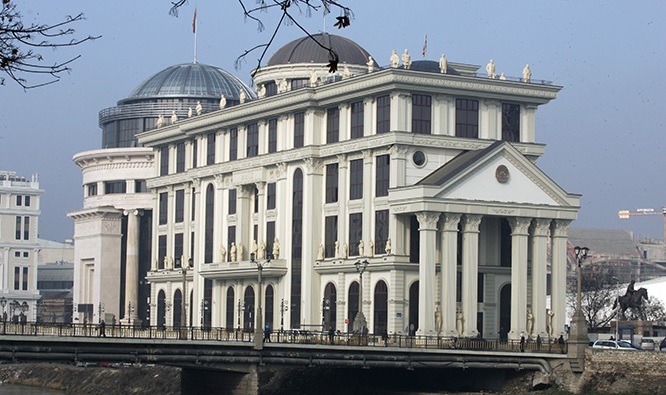 The Foreign Ministry in fYROMacedonia is distancing itself from yesterday's statements by the country's spokesman in the name issue negotiations, Vasko Naumovski.
Sources of the fYROMacedonian Foreign Ministry, in a statement to the state news agency 'MIA', said that, according to diplomatic practices, the ideas of the UN mediator on the name issue, Matthew Nimetz, should not be publicly commented before a comprehensive analysis is done and before building a position of the country's leadership.
This comment from sources in the fYROMacedonian Foreign Ministry concerns yesterday's controversial statement by the fYROMacedonian representative in the name talks, Vasko Naumovski, following Matthew Nimetz's meeting with representatives of Greece and fYROMacedonia, in New York. "Participation in the process of overcoming the dispute over the name between 'Macedonia' and Greece requires a high degree of professionalism and accountability. Building bridges and opening doors to the European and Euro-Atlantic future of the country requires patience and dedication", sources from the Ministry of Foreign Affairs added.
The same sources have also highlighted that, so far, the fYROMacedonian Ministry of Foreign Affairs has "not been fully informed about yesterday's meeting in New York".
Meanwhile, today, some fYROMacedonian political parties also commented on the New York relevant meeting and the Naumovski statement.
Main opposition VMRO-DPMNE's parliamentary spokesman, Vlatko Gjorcev said that, the Naumovski statement was "worrying" because, the latter is a competent negotiator who has been involved in the talks for the name issue for many years. "I think this statement is not accidental," Gjorcev said.
Co-governing and largest Albanian DUI party's head, Ali Ahmeti, described the Naumovski statement as "controversial" because, as he said, he had not discussed or consulted with the government about it beforehand…/IBNA