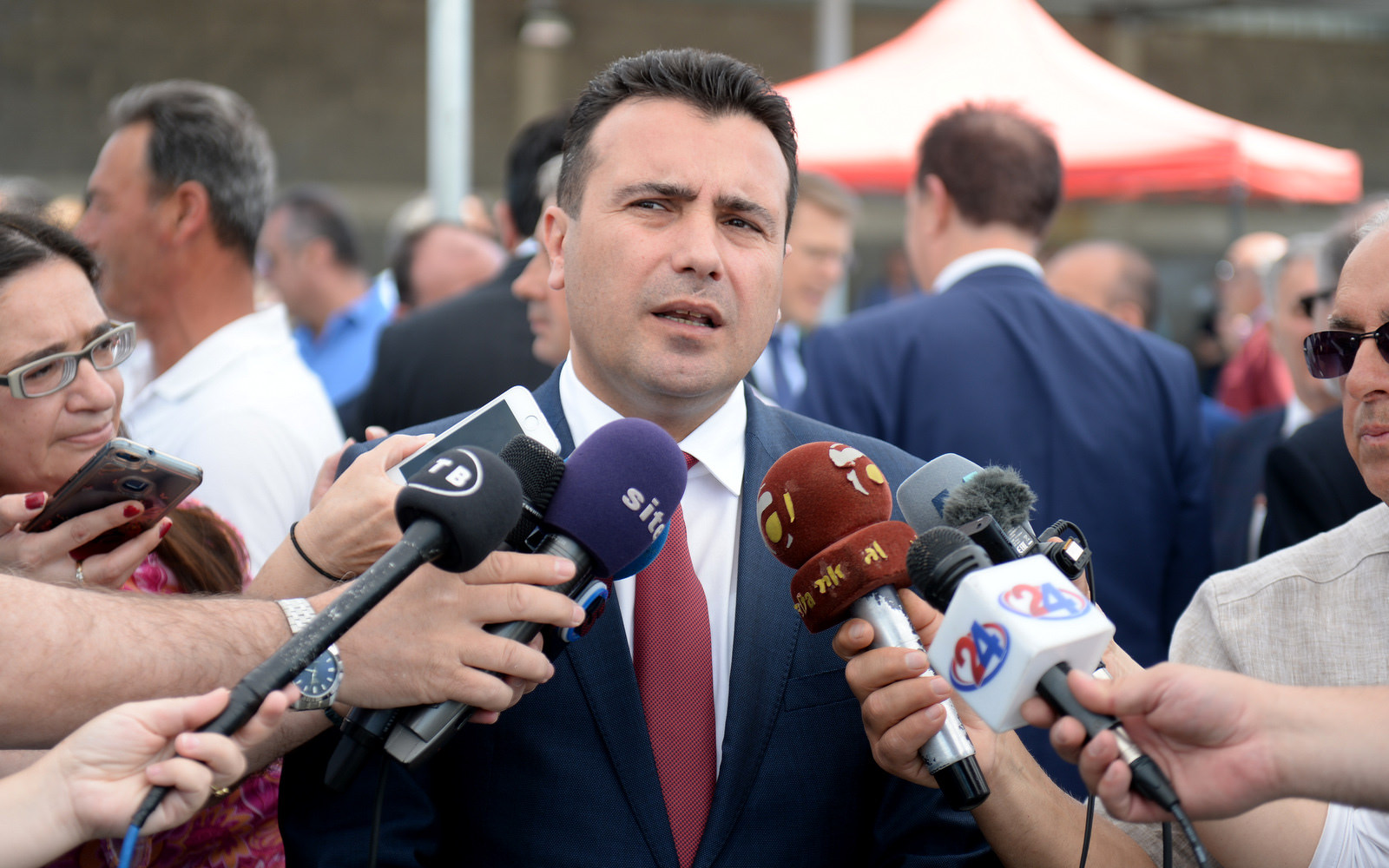 The fYROMacedonian referendum on the Prespa Agreement with Greece will be held in late September or early October, the fYROMacedonian Prime Minister Zoran Zaev reiterated today.
The final date will be "secured" around mid-July, following a decision by the parliament.
According to the "Nezavisen Vesnik" newspaper, talks are currently taking place between the coalition parties and the opposition, which will depend on whether the details of the referendum initiative will be agreed. As the publication suggests, it is almost certain that this initiative will come from parliament, with the aim of co-signing it by the VMRO-DPMNE opposition parliamentary party Hristijan Mickoski, which, although it is opposed to the deal, it has been programmed to commit any agreement to the citizens by a referendum.
The question citizens will be asked to respond to is also unknown. They would directly answer the question of whether they agree with the Skopje-Athens agreement or part of it might refer to the country's accession to the EU and NATO, so as to make the question more tempting to those who disagree today.
Along with the decision on the call for proposals and the question of the referendum, it remains to clarify its character, i.e. whether it will be advisory or binding. The VMRO-DPMNE insists that the referendum be binding, while Zoran Zaev's ruling Social Democratic Union (SDSM) has not clarified its position, but stresses that, regardless of the formal nature of the referendum, the decision of citizens will be virtually binding for the actors of power.
According to sources, Zoran Zaev's government intends to hold the referendum by the end of September, so there will be time for constitutional changes to be implemented by the end of the year, as long as the outcome of the referendum is positive.
In any case, according to the legislation in force, if the referendum is called in mid-July, it should be held within 60-90 days, that is from mid-September to mid-October.
For yet one more time, on Thursday, the fYROMacedonian parliament will be asked to ratify the Prespa Agreement anew, following the refusal of President Gjorge Ivanov to sign the original decision made by the majority. Now a positive vote of at least 61 MPs, out of a total of 120, is required so that the Agreement reaches President Ivanov again, who is obliged by the Constitution to sign it.
However, according to all the evidence, Ivanov will not sign the relevant decree again, as he did with the law on expanding the use of the Albanian language in the fYROMacedonia, despite the fact that it was enacted by the Parliament twice.
In this case, the President of the Parliament, Talat Xhaferi (of Ali Ahmeti's Albanian BDI party), has announced that he will sign and send the Prespa Agreement and the law on the wider use of the Albanian language for publication in the Government Gazette himself….. / IBNA