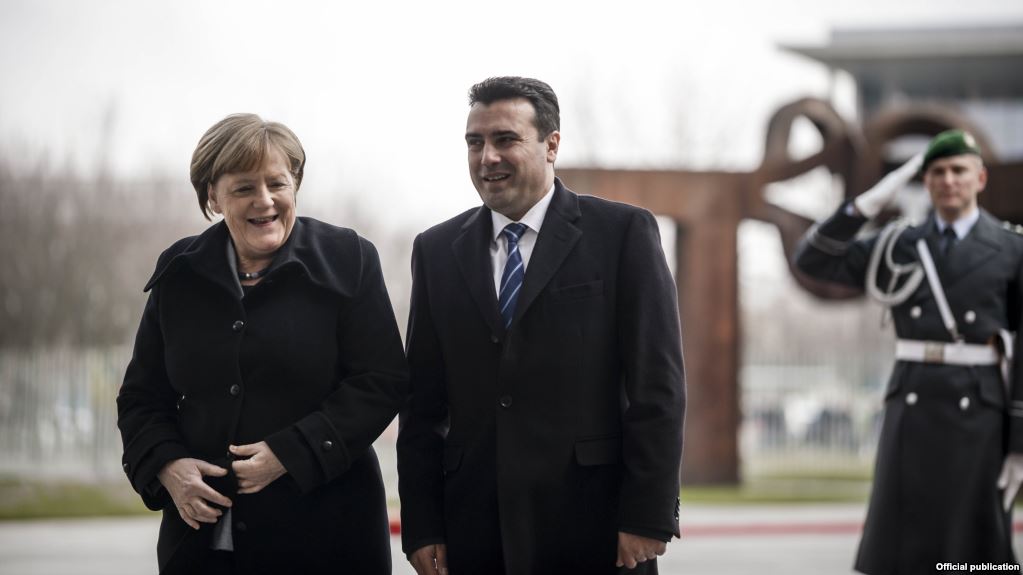 Leaders of foreign countries and heads of international organisations are expected to visit Skopje in the following period to express their support for the Prespa Agreement in the run-up to the crucial referendum in fYROMacedonia on September 30.
The most resonant visitor to Skopje for this purpose is German Chancellor Angela Merkel, who will be in Skopje on Saturday September 8, where she will meet with her prime minister of fYROMacedonia, Zoran Zaev, as the undersecretary of state, Steffen Seibert, confirmed.
According to the spokesman for the German Chancellor, the Merkel-Zaev meeting will focus on regional developments and bilateral issues and, as he noted, Chancellor Merkel "wishes to form her own opinion ahead of the referendum on the issue of the name of the country, which is to be held at the end of the month, while being in the country herself."
Merkel's visit to Skopje (on September 8) coincides with the national anniversary of fYROMacedonia, the Independence Day (on September 8, 1991 fYROMacedonia declared its independence from former Yugoslavia). The German head is expected to express its strong support for the Prespa Agreement. Also in an indirect but clear manner she will invite the citizens of the country to participate in the referendum and vote in favour of the Agreement in order for the country to succeed in joining NATO and be in a position to begin accession negotiations with the EU.
In the coming days, NATO's General Secretary Jens Stoltenberg, Austrian Chancellor Sebastian Kurz, whose country holds the EU presidency for the current second half of the year as well as other foreign officials are to visit fYROMacedonia for the same purpose…. / IBNA
Main Photo (File): German Chancellor Angela Merkel receives fYROMacedonian PM, Zoran Zaev in Berlin, early 2018