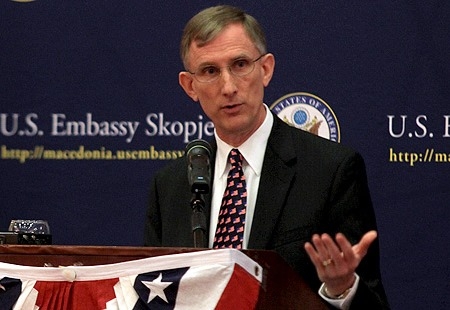 Skopje, December 4, 2013
This month will mark the 20th anniversary of diplomatic relations between USA and FYR Macedonia.
US embassy in Skopje has organized during these days activities on this occasion.
Ambassador Paul Volers used this occasion to say that FYR Macedonia is an ally country of USA.
"USA and Macedonia established their relations 20 years ago. There have been many events in the past, but the friendship and partnership between the two countries has remained strong. Our mission hasn't changed since the very first day. I'm proud about the fact that we consider Macedonia an ally country and we want to see it achieve its potential as a strong dynamic democracy, entirely integrated in the Euro Atlantic community", said the US ambassador.
Volers underlined that USA supports the progress of FYROM in domains such as the rule of law, agriculture, education, civil society and other domains. Volers said that relations between the two countries will continue to be excellent.
USA opened its diplomatic office in Skopje on December 3, 1993, while the first US diplomat was Victor Komras. Formal work in the office started in 1994 and diplomatic relations between the two countries were established in 1995, when the diplomatic office became a US embassy. The first ambassador was Christopher Hill. /ibna/