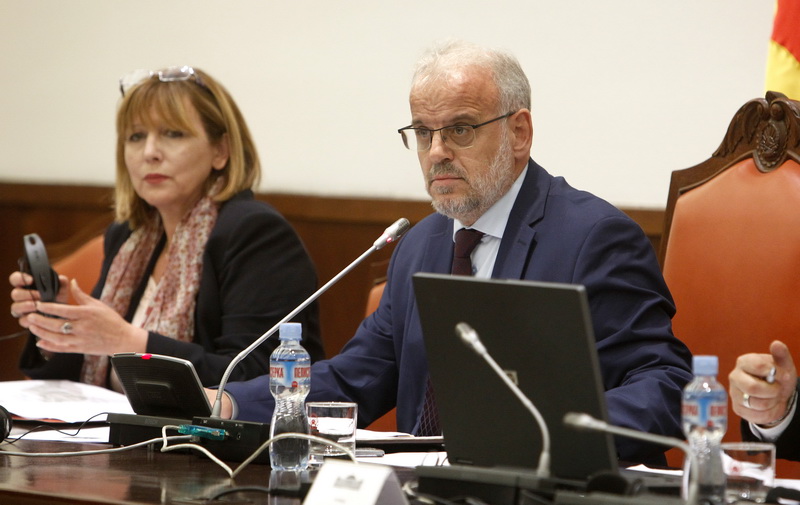 The Parliament's Committee on Constitutional Issues has started the debate on the four draft-constitutional amendments arising from the Prespa Agreement on Wednesday.
The committee debate is set to last for twelve days, followed by a plenary session scheduled for December 1st.
PM Zoran Zaev presented the draft-amendments last Friday, saying the four amendments are simple, have nothing disputable in them and in compliance with international standards, deserving of support by all MPs for the purpose of EU and NATO integration.
The first amendment refers to the replacement of word Republic of Macedonia with the Republic of North Macedonia in the Constitution, except in Article 36, where it denotes a historic aspect.
The second amendment relates to the Preamble of the Constitution, where decisions of the 1944 "Anti-Fascist Assembly of the National Liberation of Macedonia" (ASNOM) session are replaced by the ASNOM Proclamation while the Ohrid Framework Agreement is added as the country's constitutive element.
"This is already part of the Constitution, only the wording is added, and this is fair to all less-represented communities," said PM Zaev.
One paragraph is added through the third amendment, namely that the Republic is respecting the sovereignty, territorial integrity and political independence of neighboring countries, which provides enhanced guarantees over the inviolability of borders with Greece, although it refers to all neighbors.
The fourth amendment reads that the Republic protects the rights and interests of its expatriates, enhancing their ties with the homeland.
"This refers to our diaspora, which rights and interests are still protected, but in a European manner. Article 49 has been reformulated so that it does not cause other obstacles in the future. The Republic takes care of the Macedonian expatriates and the Republic shall not interfere in the sovereign rights of other countries and their home affairs. This is simple and eliminates concerns for future obstacles in building friendship between Macedonia and Greece," added Zaev.
The Parliament decided to initiate the constitution revision through a two-thirds majority vote on October 19.
The current, second stage of defining the amendments requires a simple majority of 61 votes, while the third and final stage is their adoption needs the support from a two-thirds majority, or 80 MP votes at least…/ IBNA