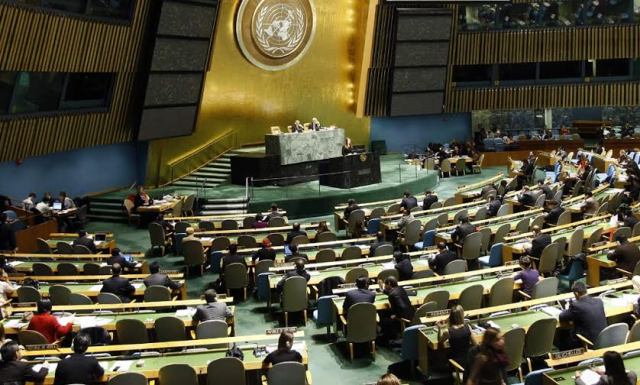 IBNA Special Report
Skopje, January 29, 2015/Independent Balkan News Agency
By Naser Pajaziti
Debates and reactions have been sparked in Skopje, because the country may risk losing its vote in the General Assembly of UNO, due to an outstanding debt toward this organization.
Macedonian opposition and the media, based on a document issued by UNO and signed by Secretary General Ban Ki Moon, accused state authorities that they had not paid an outstanding amount of 24,606 Euros to the UN, which is a contribution that must be paid to the account of the world organization.
The Ministry of Foreign Affairs declared today that the right of vote has not been lost and that the outstanding amount has been paid.
"The due amount has been recently paid. The right of vote is not at risk", reads the short press statement of the Foreign Ministry in Skopje.
But, in the official document of the UNO, signed by Ban Ki Moon and which was sent to the president of the General Assembly, FYR Macedonia has been listed among the countries that haven't paid their membership fee.
The letter has been sent on January 12 stating that 13 member countries which have not paid their membership fee cannot vote. Besides FYROM, among these countries are also Kirgizstan, Liberia, Grenada, Somalia, Tongo, Yemen, etc.
Strong reactions have come from the opposition party LSDM (Macedonian Social Democratic Union).
"Two years in a row, our state has not paid its UNO membership fee. Due to an outstanding amount of 24 thousand USD, our country enters the same group as Somalia, Ruanda and Yemen. This amount of money was spent for travels by a single MP of VMRO-DPMNE, which means that when it comes to the pockets of VMRO-DPMNE officials there is plenty of money, but when it comes to the state, there is no money. We're not surprised, but we express our regret that the world is seeing where we have come to as a state. The responsibility falls upon Nikola Gruevski and there's only one solution: he must leave", declared Viktor Gaber, member of the opposition's foreign policy committee.
Former diplomat in the NATO, Nano Ruzin told IBNA that this kind of thing is bad for every country.
"Such scandal is intolerable, at a time when the government boasts that we're among the top 20 countries for doing business or among the top six countries with the highest economic growth in Europe. This is a serious complaint for Mr. Gruevski's government and this event doesn't only have a technical nature, but it also shows how much is our diplomacy is being marginalized", declared Ruzin.
According to him, it's common practice that international organizations in form the respective countries before hand on this and then issue the official documents.
The Ministry of Foreign Affairs is expected to issue details on this. Accession of the country in the UNO was made on April 7, 1993 under the name FYROM and the non constitutional name "Republic of Macedonia". Up to this day, the country is still known as former Yugoslav Republic of Macedonia or FYROM. /ibna/