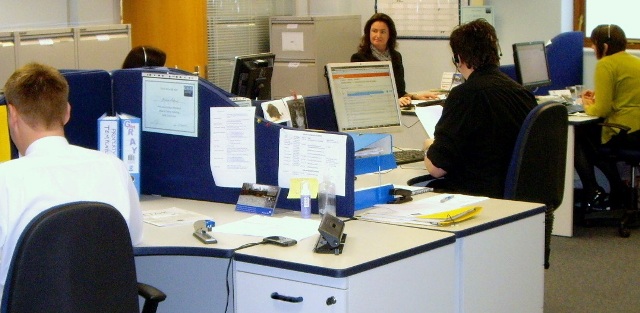 IBNA Special Report
Skopje, April 21, 2015/Independent Balkan News Agency
By Naser Pajaziti
The former Yugoslav Republic of Macedonia has a big administration, which is damaging the budget of the country. According to the latest report of the Ombudsman, in 2014 the number of employees in the state administration was 108 thousand. In 2007, the administration only had 59 thousand employees.
The increase by twice of the state administration has taken place in 2010 and 2011 during the consecutive and early elections. State Authority of Statistics also say indicates that the number of employees in the administration is 118 thousand, which means that one in four employees in FYROM is part of the state administration.
Professor of the Law Faculty in Skopje, Borce Davitkovski said that these figures are not affordable and unreal, bearing in mind the fact that FYROM is a small country.
"The trends of the growth of the administration overburden the budget. We're seeing that currently, 65% of the budget goes for salaries", declared Davitkovski.
Economy expert, Slobodan Najdovski underlines that the administration is mainly increased for ideological and political needs of those who govern.
"Besides being big, it's also inefficient. The lack of jobs in the real sector is compensated with employments in the administration. We've come to a situation where nobody knows any longer what job they're doing. On the other hand, we're facing an extreme political influence in the state administration, unprecedented even during communism", declared for IBNA, Slobodan Najdovski, adding that the citizens are the ones who pay the ultimate cost of all of this situation, which may explode and the country may be engulfed by the economic and financial crisis.
The Center for Human Rights and Solution of Conflicts in Skopje has reflected the reality of the administration through a report that it has issued.
"Employment through party and friendly ties, but even through bribery, is a reality which continues to be present. State administration and different institutions are filled with such individuals and the majority of them do not have the necessary skills to do their job", says this NGO.
But, opposition political parties and Albanian political analysts express their concern about the discrimination and the unreal representation of Albanians in the administration.
Economy expert, Izet Zeqiri told IBNA that Albanians are discriminated as far as their representation in the state administration is concerned and that the Ohrid Agreement requirement for an equal representation in the state administration has not yet been fulfilled.
"Albanians are discriminated in employment in the public administration and state administration. Every year, the budget allocates 361 million Euros and the majority of these funds go for Macedonian employees and a very small part goes for Albanians, because the representation of Albanians in the public administration is not adequate. According to the Ohrid Agreement, Albanians in the administration must be represented at a level of over 25%, but the current figure is only 15%", Zeqiri declared.
Throughout the years, FYROM has received strong criticism by the Progress Report of the European Commission that the state administration is overburdened, unprofessional and that it cannot serve to its citizens with the efficiency that EU standards require. /ibna/