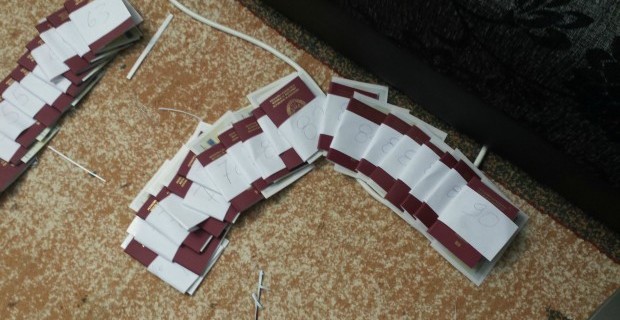 IBNA Special Report
Skopje, December 2, 2014/Independent Balkan News Agency
By Naser Pajaziti
The discovery of an unknown illegal place in FYR Macedonia, which was used to produce biometric passports, has caused debates as to what are these passports that are being printed and illegally processed.
The weekly "Fokus" has published a video material and several photos, which shows an unknown location where forged biometric passports are printed.
This material is suspected to have been filmed before the elections, while the images show passports and paper spread on the floor of a private house.
The images also show two machines which are suspected of having been used for the printing of passports and a stamp. But, the Interior Minister has denied the possibility of the forger of passports or the existence of an illegal location which produces them.
Interior Minister, Gordana Jankulovska said that FYROM's passports are some of the safest ones in the world and accused the Macedonian opposition of being behind these things.
"The attempt to orchestrate an affair is a failed attempt, because it's clear that this approach is unprofessional. Those who have made this public do not know the process of the production of passports. No passports are produced in Macedonia. We secure the original samples from Germany, from the company that produces the Euro. Therefore, if someone attempted to forge these documents, he would be discovered immediately", declared Jankulovska.
The minister invited the opposition to submit to police the facts that it possesses about the suspicions that have been raised, in order for this case to be solved.
On the other hand, Macedonian party in opposition, LSDM (Macedonian Social Democratic Union) said that it's closely following this scandal.
"This scandal and the reaction of the government show that VMRO-DPMNE which controls the state institutions, has failed in controlling, manipulating and hiding the truth", says LSDM press release.
Macedonian opposition has demanded for this scandal to be investigated by institutions, although it has underlined that the institutions of this country do not serve the purposes of the state.
Part of this debate has also been the chairman of the State Election Commission (SEC), Nikola Rilkovski. According to him, although SEC has no information about forged passports, competent authorities must take measures and verify if such thing exists or not.
"I believe that there must be an investigation procedure by the Ministry of Interior and Prosecution, although we don't rule out the fact that we might start a debate on this issue", declared Rilkovski.
Other political parties have refused comments on this scandal, adding that responsible institutions must tackle this issue.
The prosecution has received the footage, while saying that it's still waiting on further evidence to arrive. /ibna/