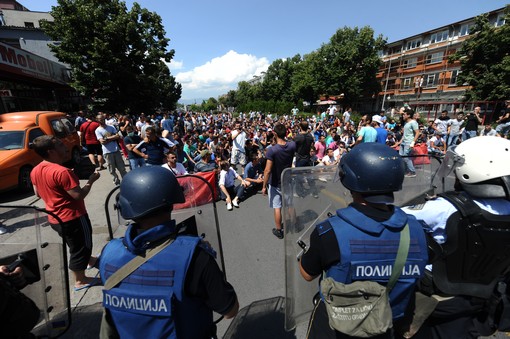 IBNA Special Report
Skopje, July 7, 2014/ Independent Balkan News Agency
By Naser Pajaziti
FYROM has been hit by protests by ethnic Albanians. After Friday's protests, other protests followed in other cities, leading to clashes between police and protesters, which caused tens of wounded people.
These protests are being organized by groups of citizens who are angered by the life prison sentence given for six Albanians, who are accused of the murder of five Macedonians in April 2012, near the Smilkovc artificial lake in the outskirts of Skopje.
During the weekend, protests were held in Skopje, Tetovo, Struga, Diber, Kercova, Gostivar and Ohrid. But, violence erupted on Sunday's protest in Tetovo, where protesters have clashed with police in an attempt to reach the headquarters of the Albanian party in power, BDI (Democratic Union for Integration).
Protests continue to be violent and there's no control over protesters.
Meanwhile, so far, police have managed to disperse them through tear gas, gas bombs and water. Other violent protests have also been scheduled for next week.
Organizers warn daily protests
In Skopje, families of those who were given life sentences, said that the protests in Skopje will continue every day, until their relatives, who according to them are innocent, are released.
"We only ask for justice and not mercy. We have often said this. This is a great injustice done to us as a family, but also as a nation. They humiliated our nation, our religion, they made us terrorists and killers, in order to cover a few dirty things that the regime is doing itself", says for IBNA, Bedri  Ajdari, brother of one of the Albanians who was given a life sentence.
Other protesters too say that the current regime, which is orchestrating trials against Albanians, cannot be tolerated. "We cannot endure any longer. It's clear that this regime always blames Albanians. We continue to be discriminated and our corrupted politicians forced us to get out on the roads", says Ilir, a student from Skopje.
Part of protesters are also youngsters and students, who lead protesters' crowds. So far, there hasn't been any organizations which controls order in the protests scheduled to take place in the days to come.
MoI: Arrests and identifications of violent protesters
MoI (Ministry of Interior) said that it will react tough against violent protesters and that the identification of persons who have attacked police and damaged official institutions in the recent days, continues.
"24 participants in the Friday's protest have been identified. Six of them have been sent before the judge accused of being part of the crowd and for not allowing the state officials to conduct their duty", said MoI spokesman, Ivo Kotevski.
According to him, law and order agencies are also trying to identify other persons who were involved in violence. MoI has called protesters who used violence hooligans.
Deputy minister of Inteior, Zemri Qamili, an Albanian lawyer from Tetovo, told IBNA that citizens have the right to protest, but not to be violent and throw stones and other objects. "But, on the other hand, we will verify all the denouncements made by citizens for violence used against them by police. We will examine all reports from the protests. But once again I say that the freedom of speech and protests are guaranteed by the law. I believe that citizens discontented with a court ruling, must be patient and wait for other judicial instances to issue their verdict", said Qamili.
Reactions and political debates
The political class in FYR Macedonia has also been involved in debates about the protests. The biggest Albanian opposition party PDSH (Albanian Democratic Party) says that it backs the protests held by Albanians.
"People must protest for every injustice which is committed, but the protest must be controlled. As a party, we support protests, but we're also rational. I want to invite all Albanians not to give up hope on the democratic process and our allies, NATO, EU and USA", declared the leader of this party, Menduh Thaci.
Albanian party in power, BDI appealed for calm and peaceful protests, demanding for time to be given to institutions in order to shed light on the sentence given to Albanians.
"We appeal for all parties to restrain from violence, because this doesn't help in shedding light on the case of the six Albanians who were sentenced life in prison", said BDI.
Macedonian party in power, VMRO-DPMNE denies all accusations addressed against it and of putting pressure on the courts about the sentencing of the six Albanians.
"VMRO-DPMNE and its leadership would never allowe for pressure to be exerted against judges to give life sentences against some people if they're not guilty. But, it has now become a common practice for a part of the Albanian media to accuse VMRO-DPMNE for causing resentment among Albanians", says the press statement of VMRO-DPMNE, a party led by the prime minister of the country, Nikola Gruevski.
But, analysts of political issues also offer their insights on the recent protests.
"The protests of the recent days are not only a result of the ruling of the court of Skopje, but also as a result of the cross ethnic problems, tensions and so on. This is also a result of the failure of the efforts to treat this case like all other judicial cases. People don't see it like this, but consider it like an ethnic case", says Petar Arsovski, analyst and expert of cross ethnic issues.
Analyst Mersel Bilalli told IBNA that the situation may escalate if political parties do not take serious measures to overcome the current situation.
"I believe that we're in a very critical situation and very aggravated. I believe that parties must sit down as soon as possible and find rational solutions in the framework of the law and Constitution", says Bilalli.
USA, EU, OSCE and NATO made a joint statement calling for citizens to restrain themselves from any acts of violence.
"We call on the citizens and state leaders to unite in the spirit of constructive talks and to address issues that mine mutual understanding and cross ethnic relations", says the joint statement. /ibna/