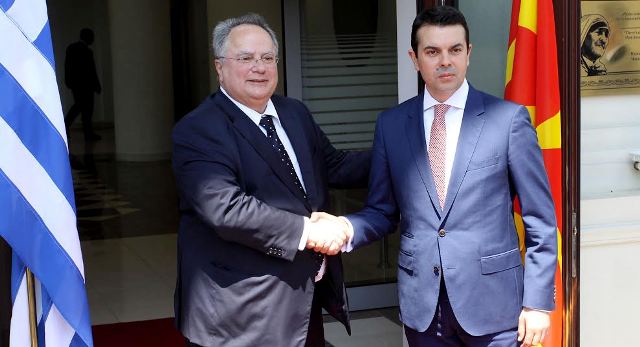 Skopje, 24 June 2015/Independent Balkan News Agency
By Naser Pajaziti
Messages of cooperation and building up trust between the two countries have been the central topics discussed today in the meeting between the Greek Foreign Minister, Nikola Kotsias and his counterpart, Nikola Poposki.
Greek Foreign Minister said that he agreed with his Macedonian counterpart Poposki to build up trust between the two countries.
"Greece is the state that contributes for the stability in the Balkan region and with Skopje, we share the same interests. We want your country to move forward in the path of European integration and we back your efforts", minister Kotsias declared after the meeting held with Poposki.
The two ministers said that they signed a document that contains 12 points with the aim of building up trust. The measures that will be taken and implemented by the two countries include the domain of education, culture, trade, transport, energy laws, tourism and judicial system. These are initial measures, while Kotsias and Poposki agreed on other measures of cooperation too.
The name dispute was also at the focus of the meeting.  Minister Poposki clarified his declaration issued yesterday, when he said that Athens and Skopje are still far from finding a solution to the name dispute.
"This dispute has lasted a long time. Today we don't have a solution for this, but we have an approach that gives way to a solution through measures of trust. The first step is to build up trust", minister Poposki said.
The Greek foreign minister said that he's in favor of the solution of this dispute. "We're determined to solve the name dispute. We must meet and discuss these issues. Politics demands signals and we gave these signals. History will serve as a lesson for us. We're interested on stability and security and we must create ties between the two countries", Kotsias declared.
Commenting on the journalists' question as to why Athens is not respecting the ruling of the International Tribunal of Hague on the name dispute, the Greek foreign minister said that this court showed that it's not competent for such a ruling and that a careful approach is needed when issuing these kind of rulings.
Kotsias said that FYROM is a country that promotes peace and that Greece wants to help FYROM in its Euro Atlantic integration path.
Asked by IBNA's journalist on the positioning of FYROM in relation to energy projects, minister Poposki declared that his country is interested on implementing every kind of project in the domain of energy. Such project is also the Russian Gas Stream through Turkey.
"We're ready to be involved in every project, such as the one that goes through Turkey. For this, there must be an agreement between Russia and Turkey and between Russia and EU. For the time being we cannot say something concrete", Poposki said.
Kotsias also said that Greece is interested in creating energy links and other links that the two countries will offer. /ibna/