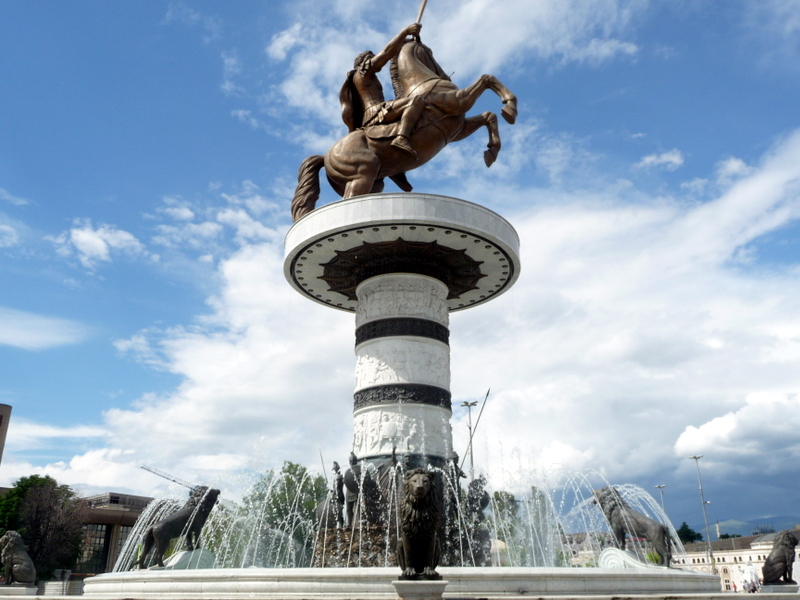 By Nikos Fragopoulos of Skopje News
A list of statues and monuments that should be immediately withdrawn from Skopje's city center is in the hands of Culture Minister of fYROMacedonia, Robert Alagjozovski, with the final decisions to be taken by prime minister Zoran Zaev.
The list was put together by a working group of the ministry of culture, headed by the ruling Social Democratic Party (SDSM) member Miroslav Garchev, which examined the legality of statuary and statute-making procedures in the framework of the pharaonic plan "Skopje 2014", inspired by former Prime Minister Nikola Gruevski.
So far, it has been made known that the statues of Mother Teresa, an Albanian in origin Catholic nun from Skopje who developed multi-year humanitarian action and a missionary work in India, and of Anton Janev – who claim as their national hero both fYROMacedonia and Bulgaria are included in the disputed list and is are candidates for… removal.
Regarding the statue of Alexander the Great, which dominates the central square of Skopje, information indicates there is a positive suggestion for his removal, as it was found that for his construction and placement there were serious irregularities in both the observance of the legislation and the total cost of the work.
"At the moment, the working group is studying and developing some of the elaborated issues, looking at the initiatives that local or central institutions have to take", said the culture minister, adding: "procedures are so wrong so as to become complicated by the unlawfulness of the competent authority responsible for the placement of these monuments in the capital".
According to Skopje's media, a matter of time is the government's decision to officially announce the removal of statues related to personalities from ancient Greek history and, which have provoked Greece's reaction. "Even if the Government's intention on the 'Equestrian Warrior' (official name of Alexander the Great statue) is not known, it is certain that Skopje Airport will soon change its name as a symbolic gesture of goodwill to build good neighbourly relations with Greece", reports a DW's fYROMacedonia news agency.
Recently, diplomats of fYROMacedonia have been in favour of renaming the airport from "Alexander the Great" to "Kiro Gligorov", with Prime Minister Zoran Zayev stating his agreement.
Reacting to the new government's intention to… deconstruct the "Skopje 2014" project, former Prime Minister Nicholas Gruevski said that when his party returns to power it will replace them if they have been removed.
"The replacement of the  monuments in their positions is an obligation of VMRO-DPMNE. And this is it. A debt to our ancestors, and an answer for one more time to anyone who believes that the backbone of the Macedonians can break", Gruevski said./IBNA