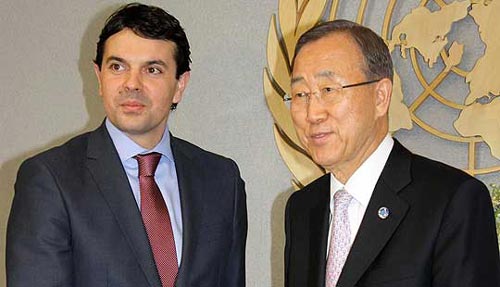 Skopje, June 12, 2013
The Foreign Minister of FYR Macedonia, Nikola Popovski met last evening in New York with UN secretary general, Ban Ki Moon and the focus of this meeting was the name dispute with Greece.
The meeting was announced today by the press office of the Foreign Ministry in Skopje, which also informed that today, minister Popovski, in the framework of his visit at the UN will also meet with the UN intermediary for the issue of the name dispute, Methew Nimic.
After the meeting with the UN secretary general, Minister Popovski stressed that the country has been using the name of FYROM for 20 years as a member of the UN, while saying that Greece is not interested in resolving the name dispute.
"During these 20 years as UN members, our southern neighbor imposed an unprincipled condition, that of the name dispute. For 20 years our country has met all its obligations, while the party that launched this dispute has blocked our European and Euro Atlantic integration path", said minister Popovski.
According to him, the International Justice Tribunal has considered Greece's blockade against FYROM in the Euro Atlantic integration process as illegal.
The head of the diplomacy said that he had heard the sincere comments made by the UN secretary general for the settlement of the name dispute.
"I believe the UN wants to see the issue of the name dispute solved, but they don't have the necessary instruments to apply the ruling of the International Justice Tribunal for Greece. It's clear that Greece doesn't have reason to solve this issue", said the head of diplomacy, Nikola Popovski.
The Foreign Minister of FYROM traveled to New York to participate in the 20th anniversary of the country in the UNO. /ibna/