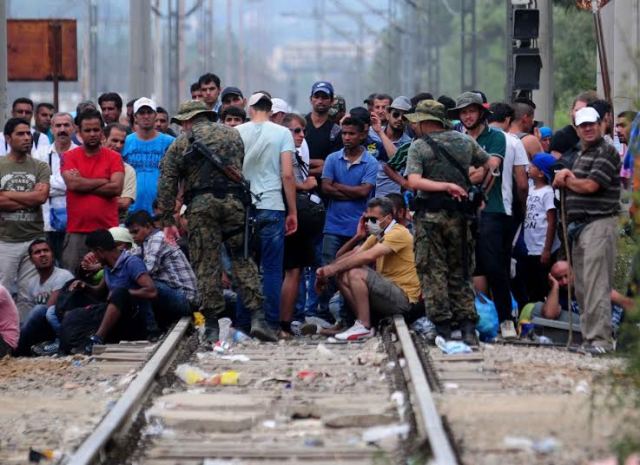 Skopje, 4 November 2015/Independent Balkan News Agency
By Naser Pajaziti
Authorities in FYR Macedonia fear that members of terrorist groups such as ISIS, fighting in armed conflicts in the Middle East, may enter the country as part of the large influx of refugees.
The cabinet of the president of the country, George Ivanov, holds a secret report that is based on investigations made by security services. This report states that in the recent weeks, there has been a drop of the number of refugees from Syria and a rise of those coming from Afghanistan and Iraq.
Security authorities believe that members of terrorist groups are suspected of being amidst groups of refugees and that these individuals are a threat for the stability in FYROM and Europe.
OSCE ambassador to FYROM, Nina Soumalainen cannot offer an answer as to whether FYROM is in danger from illegal refugees or not.
"Nobody knows the answer to this question, but I am certain that institutions of the European Union and institutions in the region, are collaborating and exchanging information. However, this is an important issue which is closely being followed", says Nina Soumalainen, commenting on the report of the president's cabinet in Skopje.
Government in FYROM has continued to demand support by the European Union and has also demanded the involvement of the European agency for border control "Frontex".
FYROM's Minister of Interior, Mitko Cavkov said a while ago that the EU can help with financial and technical means and also human resources.
"But the greatest assistance would consist on drafting a consistent policy and finding a solution for the problem, a humane solution in compliance with international standards, which shows European solidarity in practice, especially for illegal refugees and their tragic fate", minister Cavkov said.
Cavkov has demanded close cooperation with Greek police to cope with the refugee crisis.
In the recent weeks, the number of refugees entering the country has grown. Authorities are trying to cope with this growing number, given the cold weather. In the recent days, the number of refugees entering the country on a daily basis exceeds the five thousand. The government has stressed that in order to cope with this influx, there's a cost of 1 million euros a month and so far, around 6 million euros have been spent from the state's budget since June.
But support to cope with the crisis has arrived yesterday from the European Commission, which has allocated 2 million euros for such situation in FYROM and Serbia, but these funds go for the UNHCR and it will by this UN organization that will manage them.
The UN is not expecting the number of refugees that enter European on a daily basis, which amounts to 8 thousand, to drop. Almost half a million refugees have entered Europe up to September of this year. /ibna/