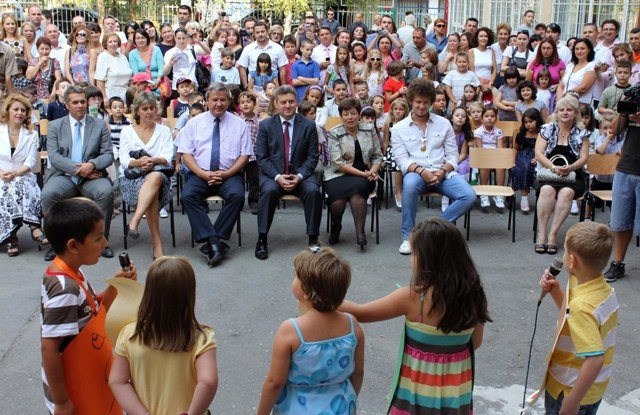 IBNA Special Report
Skopje, September 1, 2014/Independent Balkan News Agency
By Naser Pajaziti
The new academic year started today in FYR Macedonia amid warnings that teachers will launch a strike in two weeks time.
The new academic year has also started amid panic as a result of the hepatitis virus, which has affected thousands of children.
Ministry of Education said today that classes have started throughout the country and that there have been no suspensions even as a result of the virus in question.
"We hope that this will be a good year filled with development projects and investments in education", declared for IBNA, the minister of Education and Science, Abdilaqim Ademi.
Over 280 thousand students of elementary and high schools will start the new academic year after the summer holidays.
For the first time this year, 20 thousand new pupils will enroll schools. But, even this academic year starts with a lower number of pupils who enroll for the first grade. In Ohrid, Struga, Kumanovo and other cities, the number of pupils who enroll for the first time has gone down by 40%.
But, another problem also consists on the warning for general strikes by the teachers' union. This union has declared that it will start a strike on September 29 in order to demand better salaries and better teaching conditions.
Jakim Nedelkov, head of this union, told IBNA that preparations are being made for the strike and that so far, there has been support by all schools in the country.
"Besides demands for salary increases, we have also had other demands which are very important for our members such as: the signature of collective contracts, improvement of the work conditions and changes in the existing educational laws", said Nedelkov.
The Albanian League of Teachers has also said that it supports protests and that it demands better conditions for teachers and also investments and development in education for Albanian inhabited areas.
Ministry of Education and Science has invited for talks union representatives in order to find solutions, but it also says that it doesn't accept conditional talks.
Government of FYROM has announced in several occasions that it will increase the salaries in the public sector by 5% in the next four years. Such promise is expected to be delivered starting from October this year.
The union has announced that teachers in several areas have been threatened in order not to support the strike. "Threats have been made verbally, through e-mail, but they have also been addressed to the family members of those who are employed in education. This was also reflected in the August 1, where out of 30 thousand registered union members, only 1 thousand participated in this protest. This protest shows that pressure is being made", said Nedelkov.
Many associations and Committee for Human Rights and Liberties have supported the strike, appealing for pressure and threats to be avoided. /ibna/