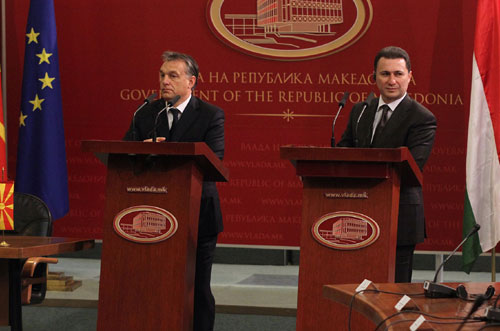 Skopje, December 5, 2013
"Europe must change its positioning toward Balkan. Balkan is not a problem, but an opportunity for Europe, while Macedonia plays a key role for stability and we want stability in the Balkan. Macedonia will become an EU and NATO member", declared the Hungarian prime minister, Viktor Orban in the joint press conference delivered today in Skopje with the prime minister of FYR Macedonia, Nikola Gruevski.
Prime Minister Nikola Gruevski said that Hungary is a country with which FYROM has excellent political relations and above all, friendly relations, while today's visit confirms this.
"Prime Minister Orban assured us of Hungary's support for negotiations between our country and EU to start as soon as possible", added Gruevski. The Hungarian prime minister said that the two countries must cooperate in the domain of economy, therefore, according to him, 30 Hungarian companies will be part of the business forum which will be held tomorrow in Skopje.
Hungarian prime minister, Viktor Orban was decorated today by the president of the country, George Ivanov with the medal "September 8" as a precious friend of FYROM. /ibna/