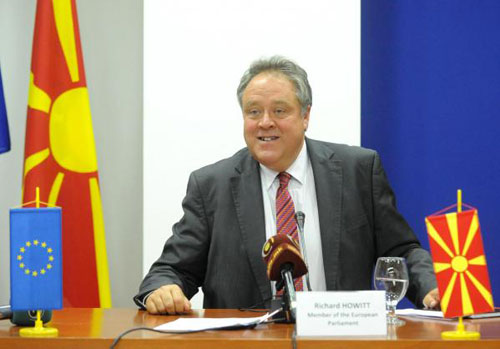 Skopje, November 20, 2013
Richard Howitt, British MEP on FYROM has reiterated his request addressed to the EU Council to call a date for the start of negotiations for the accession of FYR Macedonia in the EU without further delays.
The British MEP did this through a draft resolution, which will be discussed at the committee for foreign affairs.
The British MEP concludes that the criteria of Copenhagen have been fulfilled in order for FYROM to start negotiations for accession and to share the Commission's positioning that with the opening of chapters 23 and 24 for justice, democracy and human rights, progress will be made on many issues which are of a special interest for member countries.
The draft resolution of the British MEP also mentions the fact that Albanian population in the country may feel "neglected" in the enlargement process, bearing in mind the progress of Kosovo and Albania and this may impose a risk in the future for the stability of the country.
As far as the name dispute is concerned, Howitt says that "the failure of both sides to find an acceptable solution for the name dispute in 20 years, in spite of the efforts made by UNO intermediary, puts a big question mark on the likeliness of this to happen".
He called on Greece to take advantage of its presidency of the European Union next year to encourage the solution of the name dispute.
As far as good neighboring relations are concerned, Howitt praises the meetings between the prime minister of the country and that of Bulgaria and believes that the historical differences between the two countries may be solved through dialogue. He called on the two countries to undertake important measures toward reaching a bilateral agreement.
The members of the committee for foreign issues may submit the amendments of the test proposed by Mr. Howitt until December 10. /ibna/