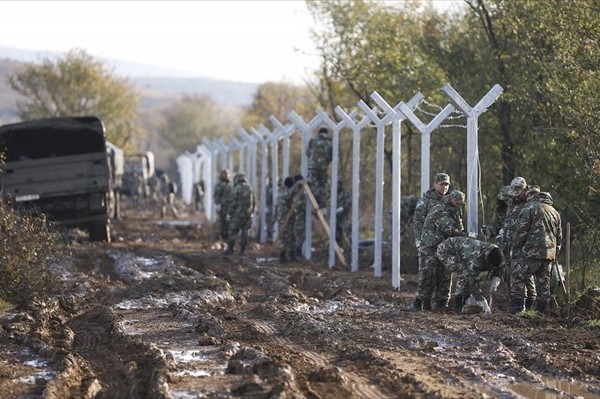 Athens, November 30, 2015/Independent Balkan News Agency
By Spiros Sideris
"On Sunday morning started on the part of FYROM the construction of a fence with barbed wire on the three to four-kilometer long borderline length between the bank of the Vardar River and Mount Paiko", said to AMNA a source in the police department of Kilkis, which is responsible for guarding the border area of ​​Idomeni, where thousands of refugees and irregular migrants flock daily, in order to contribute to FYROM and from there to Central and Northern Europe.
"There are around five hundred people with military uniforms working, placing metal pipes half a meter in height at a distance of three meters apart. Already they have placed a wired fence within a hundred meters along Axios river", he added.
Skopje had announced since mid-November the construction of a fence at the border with Greece "if European countries reduce the number of refugees they accept" and the decision was taken by the National Security Council of the country. In a statement it was stressed that "such a fence is not aimed at closing the borders but to reduce the refugee flow, according to the number of refugees and immigrants that European countries will accept to which they are directed".
After that, the situation at the border station Idomeni, where  more than a thousand economic migrants remain trapped as the authorities of FYROM allow entry to only refugees from Syria, Iraq and Afghanistan, the situation is expected to escalate.
"Things become dangerous and now with the fence even worse. Thousands of people arrive and are forced to sleep in tents in the rain and cold. The checks should be made in Athens so that only refugees and economic migrants arrive here", told AMNA the mayor of Paionia, Christos Gkoutenoudis.
Along the same lines were the statements of Antonis Rigas, from Doctors Without Borders. "The situation is getting worst; last night 2500 people spent the night in tents that can only house 1500. Soon epidemics and disease will follow", he said.
The authorities of FYROM have developed on their own border special police forces and sections of the army and do not allow the transit of persons who are not registered as war refugees. In response, hundreds of economic migrants from Iran, Bangladesh, Pakistan, Morocco, and other countries in Asia and Africa have "stuck" at the railway crossing with Greece, blocking the transport of hundreds of wagons with products. There is daily tension between immigrants and refugees as one side blames the other for being stuck at the border.
The number of those trapped in Idomeni fluctuates constantly as buses arriving from Athens and they bring around two thousand men, women and children daily. The refugees spend at best at least one night on the border under very difficult conditions while economic migrants become stranded and some of them prefer to return to Athens. Bad weather conditions make accommodation and living conditions even more difficult the.