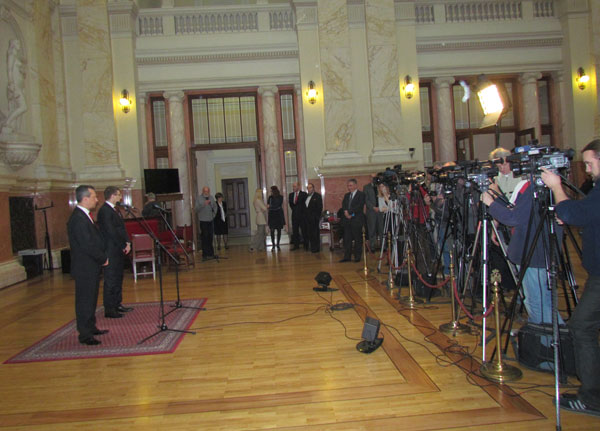 Skopje, April 1, 2013
Assembly Speaker of the Former Yugoslav Republic of Macedonia (fYROM) Trajko Veljanovski  says it is high time that Brussels announces the day for the beginning of EU membership negotiations for fYROM and Serbia.
Mr Veljanovski made the statements during a visit in Belgrade. He said: "My visit to Serbia is held in the framework of good neighborly relations." According to him, Serbia and Macedonia have always maintained excellent relations.
Mr Veljanovski's agenda included talks with the Speaker of Serb Assembly, Serb Prime Minister Ivica Dacic and other senior officials. Veljanovksi stated both countries treated ethnic minorities according to international standards. He noted the need for deeper cooperation in the economic area.
With regards to EU integration, he stated: "We expect, we wish and hope to hear that we have met all the criteria and that both our countries receive in June a date for the start of negotiations. Both our countries should integrate into the EU as soon as possible." /ibna/