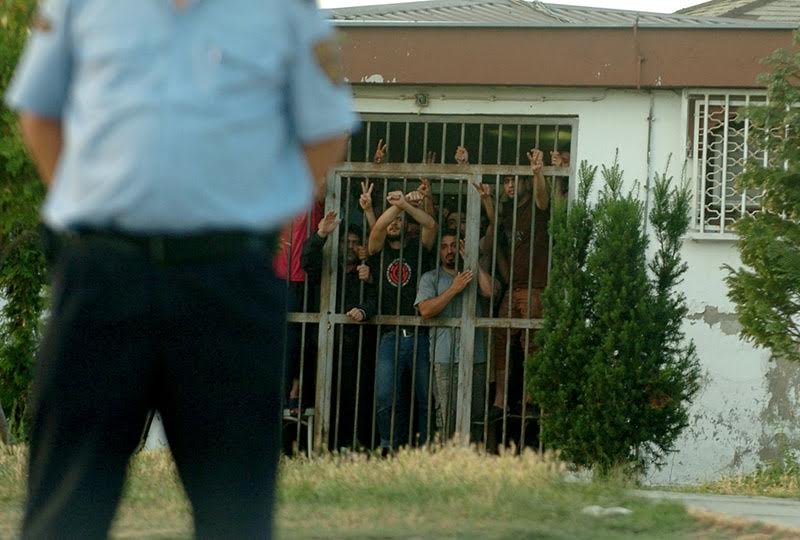 Skopje, 16 June 2015/Independent Balkan News Agency
By Naser Pajaziti
FYR Macedonia is on alert from the large numbers of illegal emigrants, but also from the protests taking place in the Asylum Seekers' Center in Skopje, due to bad conditions.
This has led to the government to warn changes in the asylum  and emigration law, facilitating conditions for foreign emigrants from Asian and African countries who are considered illegal in FYROM.
There are serious conditions in the Asylum Seekers' Center in Skopje, where hundreds of emigrants have started a protest and a hunger strike, demanding to be released and to be provided better accommodation conditions.
Several NGOs in Skopje have supported emigrants and their rights. A protesting march was held last night in the Asylum Seekers' Center, to demand better conditions for emigrants and changes in the law, in order for them not to be considered as illegal, but to be allowed free movement in FYROM.  Some humanitarian associations have been displaced on field to help illegal emigrants with food and other needs.
Terrifying photos from the Asylum Seekers' Center
The Asylum Seekers' Center is located in the area known as Gazi Baba in Skopje. The center is surrounded by barbed wire and has many police forces. Here are hundreds of emigrants caught by the state, who have been accommodated in this center under strict security measures.
Emigrants say that after they have been caught by police, they have been accommodated in this center, where according to them, conditions are miserable and that there's a threat for contagious diseases.
"The conditions are miserable. There are hundreds of us who have been placed in small rooms. Food is a disaster. There's lack of food and I don't have anything to say to my children when they become hungry. We are isolated here. We want to be released, because we don't want to stay in Macedonia. We have only used this country as a transit point to move from Greece to Serbia and then to EU countries", says one of the emigrants.
Emigrants have sent terrifying pictures on social networks of how children inside this center live. The Ombudsman office has demanded the improvement of conditions for foreign emigrants in this accommodation center and the release of all of those who don't want to be granted asylum in FYROM.
Roads filled with emigrants
The roads and railways of the country are filled with large groups of emigrants who travel from Greece to Serbia. They move on foot, because the current law on emigrants forbids the use of public transport and other hospitality services. The emigrants are forced to move on foot for hundreds of kilometers. Recently, bicycles have become an easy solution. Hundreds of emigrants are seen every day moving on bicycles.
"We have finally found an easy way of transport, because we're exhausted moving on foot. But the problem is with children and the rest of the family are forced to move on foot", says Hosam, a Syrian emigrant. He says that in the southern part of FYROM there's a lack of bicycles and that their price has gone up to 500 Euros.
Trying to avoid police, emigrants travel on country roads and railways. In the recent months, over 30 emigrants lost their life after being run over by trains.
Awaiting changes in the law
Government of FYROM has warned changes in the law for foreign emigrants. PM Nikola Gruevski promised that changes will take place this week, allowing emigrants free movement. The proposed changes are similar to those in Serbia, where emigrants are allowed to remain in FYROM for 72 hours and then travel to EU countries, which is their final destination.
The largest opposition party SDSM (Macedonian Social Democratic Union) demanded for institutions to take urgent measures for emigrants. "The warnings for changes in the asylum law are not a solution. The problem is serious and complex. The government has done nothing to prevent or improve the image of foreign emigrants. Among the emigrants there are also children, who are in difficult conditions, especially now, in a period of high temperatures", declared the spokesman of SDSM, Petre Silegov. /ibna/