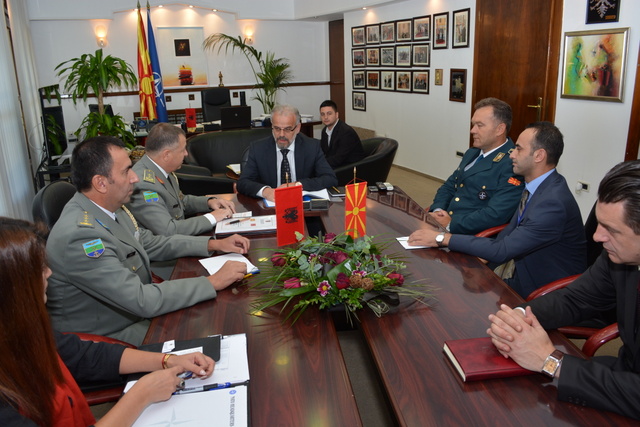 Skopje, September 5, 2013
The General Chief of Staff of the Armed Forces of Republic of Albania, general major Xhemal Gjunkshi is staying for an official visit in Skopje, where he was received today in an official ceremony by the General Chief of Staff of the Armed Forces of FYR Macedonia, general lieutenant colonel Goranco Koteski.
After this meeting, Gjunkshi also met with the Minister of Defense of FYROM, Talat Xhaferi.
General major Xhemal Gjunkshi was briefed about the reforming process in the domain of defense, the transformation of the FYROM Armed Forces, with its organization structure and the participation of FYROM Armed Forces in peacekeeping international missions.
"We also talked about the excellent international military cooperation and the contribution of the two armed forces in the integrating processes in the region through Adriatic Group (A5) and the participation from many years in the South Eastern Europe Brigade", said general major Gjunkshi.
Ministry of Defense stressed that during this meeting, the two heads of the armed forces expressed their readiness to boost up bilateral cooperation in terms of military education, use of regional centers capacities for training and the possibility for joint future engagement in ISAF mission after 2014.
The press statement of the Ministry of Defense stresses that Armed Forces of FYROM have excellent cooperation with Albanian Armed Forces and this is mostly reflected on the domain of military education, training, exercise, both in the bilateral aspect and in the framework of regional cooperation through joint participation in the projects of Adriatic Charter, the forum of the chiefs of staff of armed forces of the Balkan countries and incentives for South Eastern Europe. /ibna/