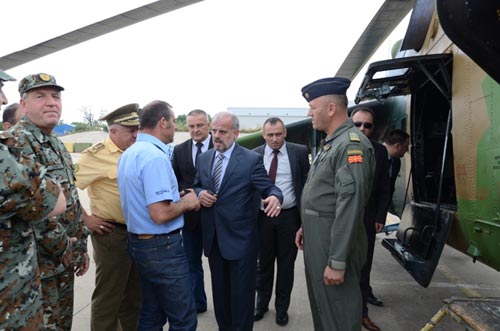 Skopje, July 16, 2013
The Minister of Defense in FYR Macedonia, Talat Xhaferi declared today that the Military will start this year the repair of a part of military aircrafts. By declaring this, he has rejected rumors for the purchase of new military aircrafts and other aviation equipment for the Army.
Two days ago, media in the country said that the Army would purchase military aircrafts and helicopters through loans, like Serbia has done. But this has been denied today by the Minister of Defense, Talat Xhaferi, who only promised the repair of aircrafts owned by the army.
"The repair must be finalized until 2014 and in this context we're making all the budget provisions for this", declared minister Xhaferi during a visit in the aviation brigade and the pilot training center "Strasho Pinxhur" in Petrovec, Skopje.
Minister Xhaferi participated in the presentation of the military helicopters and other aviation equipment of the army. /ibna/