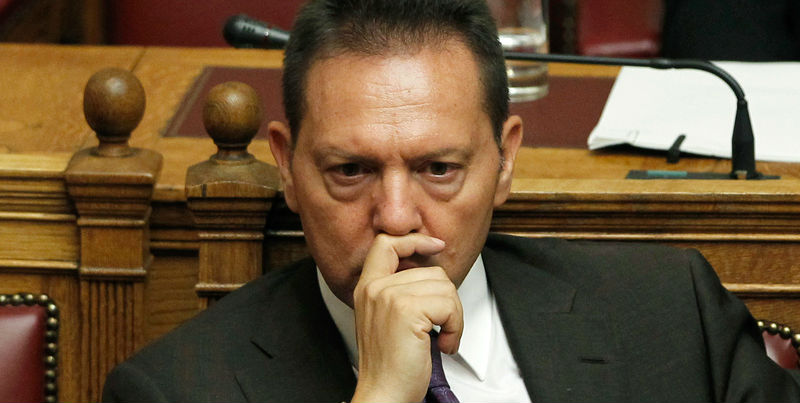 By Lefteris Yallouros – Athens
Reports emerged in Greece on Tuesday that Finance Minister Yannis Stournaras is dissatisfied with criticism levelled at him following Sunday's European elections. As New Democracy and PASOK were left trailing SYRIZA, the government's economic policies were cited as the reason behind the defeat.
Greek daily, "To Vima" reported Finance Ministry sources close to Y. Stournaras revealed the minister is quoted as saying he "will not become a punch bag".  Sources close to Stournaras later denied reports that he had expressed displeasure about plans to remove him from his post as part of a cabinet reshuffle.
Prime Minister Antonis Samaras and government vice-President, Evangelos Venizelos, are set to meet on Thursday to discuss post-election strategy. Analysts expect the PM carry out an extensive cabinet reshuffle.
New Democracy sources say the Greek premier has given no indication of who he will include in the new government so far. It is considered certain that Evangelos Venizelos will have a major say in the overhaul as several socialists are expected to be sworn in.
With Stournaras reportedly unhappy at being the target of criticism from within the government (his relations with E. Venizelos are not ideal), it is thought the Prime Minister may offer him the Central Bank chief post as the current Governor, G. Provopoulos, nears the end of his term. Reports suggest Provopoulos is being considered for the Finance Ministry, along with current alternate Finance Minister Christos Staikouras and the PM's advisors St. Papastavrou and Ch. Lazarides.
An issue the Prime Minister will have to consider when it comes to replacing Yannis Stournaras will be the fact that the current Finance Minister has a good working relationship with troika officials and is well respected at EU – level. With negotiations on debt relief expected to commence later this year, it may prove costly for the PM to opt for someone new and untested. This is one of the reasons the Prime Minister did not succumb to pressure from within the government to pick a new minister of Finance prior to the election.