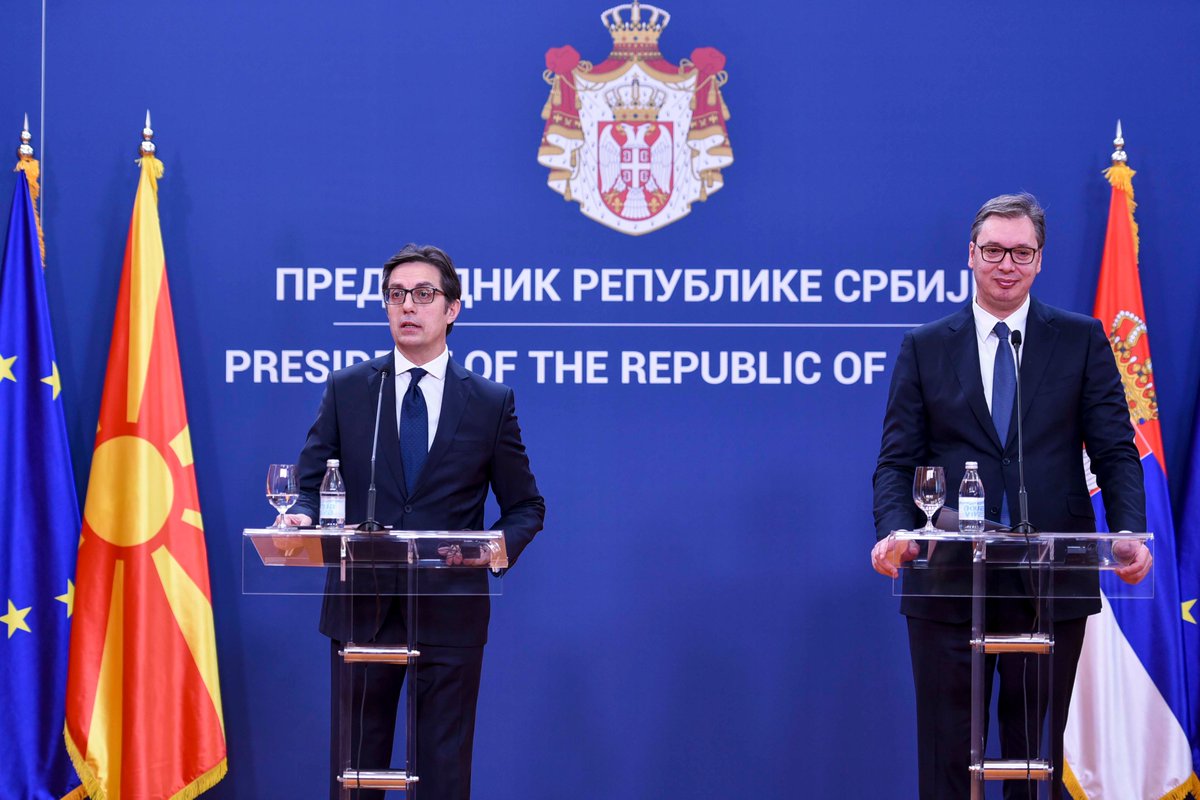 The President of North Macedonia Stevo Pendarovski, who is in Belgrade for a two-day official visit, was received with honors by the President of Serbia Aleksandar Vucic in Palata Serbia.
The President of North Macedonia, accompanied by businessmen, will participate in the Serbia-North Macedonia Business Forum and will also meet with Chamber of Commerce President Mark Čadež and various Serbian businessmen.
In statements by the two leaders, Vucic noted that the two countries' relations are on an upward track through the boosting that the economic co-operation received, adding that there were no political problems with North Macedonia except for the fact that North Macedonia has recognized Kosovo.
The Serbian President added that he had a genuine and open conversation with his counterpart from North Macedonia regarding all issues relevant to the two countries' bilateral relations, regional initiatives and other key regional issues.
"Belgrade and Skopje share very good relations; with more confidence than one or two years ago, I believe, and these relations can only become better", Vucic stressed.
He also added that economic co-operation between the two countries is advancing and that bilateral trade is expected to reach almost one billion this year, which, he underlines, would constitute a significant psychological milestone.
As for the "Mini-Schengen" initiative, he noted that it is important for the region and it is important to offer citizens something that is not just an alternative to the European course of our countries, but it is what we can do.
The new methodology regarding EU integration was also brought up, with both leaders agreeing upon it.
For his part, Stevo Pendarovski said this was his first official visit to Serbia and it comprised yet another confirmation of the good relations between the two countries. As for the debate on Kosovo, he pointed out that the solution to be found should be sustainable and should not affect the sovereignty of other countries.
He also stressed that there is a clear need to boost economic exchange and that a relevant agreement on this subject was underway. /ibna