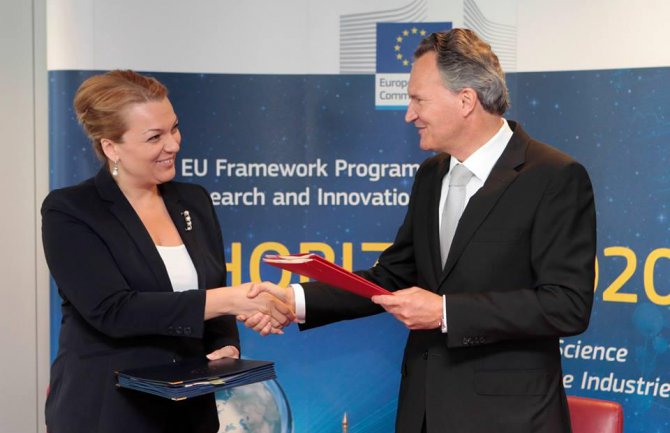 By Adnan Prekic – Podgorica
Montenegro became the first country in the region to join the EU Framework Programme for Research and Innovation – Horizon 2020 worth 77 billion euros. Sanja Vlahović, Minister of Science of Montenegro thanked the EU for its continued support and understanding for Montenegro's accession bid. Montenegro in the last year has allocated more funds for scientific research. This year alone the budget for science is four times larger than in 2013. The state through its funds has invested in scientific research nearly five million euros.
Horizon 2020 membership will enable Montenegro to participate and use the programme's funds on equal basis with any other EU member state, which creates endless possibilities for developing Montenegro's research-scientific community and economic sector, having in mind that fact the Horizon 2020 insists on the commercialisation of research and innovation processes in order to recover and boost the state's economy.
"In order to continue the scientific development in Montenegro, we have set several important objectives which are in accordance with European scientific strategy. These priorities are aimed at improving activities of the scientific and research community through boosting investments in science, developing centers of excellence and scientific-technological parks, investing in international cooperation, creating a strong bond with institutions in the region and international institutions, fostering exchanges and researchers' mobility, as well as constant the linking of science with business. In that regard, we expect from the Horizon 2020 and the European Commission to play a crucial role in promoting science and raising awareness about the importance of scientific research and innovations", emphasized Minister Vlahović.
Director General of the Directorate for Research and Innovation Robert Jan Smits, commended the five countries from the Western Balkans and Moldavia for joining the Horizon 2020, adding that the programme will cherish regional cooperation, as one of Europe's main values.
The Ministry of Science in Montenegro this year will finance scientific research activities with 4.76 million euros, which is 222 percent more than last year when it set aside 1.4 million euros. This money is provided from the capital budget and budget of ministries, as well as from international sources and funds.