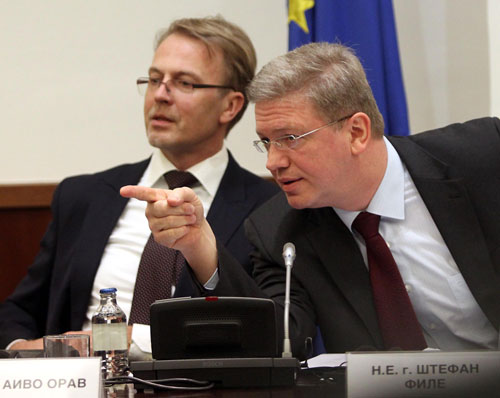 Skopje, 9 April 2013
EU Commissioner for Enlargement Stefan Fule declared today in Skopje that the political parties are committed to the European integration project.
"F.Y.R.O. Macedonia has marked progress in its reforms, in accordance with the pre-accession dialogue. It is now of utmost importance that a committee of inquiry into the events of 24 December is established and that all parties affirm their strategic commitment to EU integration in the form of a Memorandum of Understanding, expressing cross-party commitment to EU integration."
Fule said that the agreement reached on 1 March was of utmost importance in allowing for the resumption of normal political life and, the participation of all political parties in the local elections.
He stressed the importance of the establishment of the Committee of Inquiry to look into the events of 24 December in the Parliament of Macedonia, when the opposition was violently taken out of the plenary session and the majority voted the budget for 2013.
He added that continuing the dialogue between the Government and the media is crucial, as media is a key aspect of the country's integration process.
Regarding local elections, Fule highlighted that they were well-administered, competitive and candidates were able to campaign freely, but he lamented the misuse of state resources during the election campaign and the role of the media. /ibna/