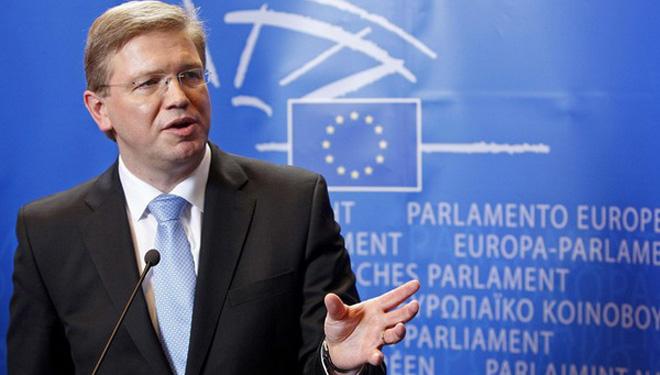 By Milos Mitrovic – Belgrade
In June the European Commission (EC) will be called by the European Union Council, without further delay, to prepare a proposal for the framework of membership negotiations between EU and Serbia. Before that, EU Council should accept a recent EC recommendation for opening negotiations with Serbia, and Belgrade and Pristina should start the implementation of their agreement about normalization of relations, European Commissioner for Enlargement Stephan Fule explained in his interview for Belgrade`s daily "Vecernje novosti".
"The deal (between Belgrade and Pristina) represents a very balanced solution and takes into account interests and rights of Serbian community (in Kosovo). We appreciate tremendous efforts of the leading Serbian politicians in this regard", Fule said.
The first EU conference about Serbian accession negotiations could be called in the second half of 2013. EU should define the precise date of negotiations. "In the meantime we expect from Serbia and Kosovo to implement the agreement that had been initialed on April 19th. I expect from Serbia, as from country that tends to start accession negotiations – and is on right way to do so – to stay fully mobilized in accordance with its European reform agenda", Fule reiterated.
Asked about the feasibility for implementing the agreement, having in mind the fact that Serbs from the north of Kosovo and Serbian Orthodox Church, among the others, had rejected the agreement between Belgrade and Pristina, Fule stressed that the agreement as well as the "advantages and guarantees" of the deal should be "fully understood".
In its "wider context", agreement implicated that Kosovo Serbs would have means to achieve their rights with simultaneous advance of Serbia and Kosovo in their way towards EU and with the implementation of the European standards by the two countries, Fule rendered.
The agreement between Serbia and Kosovo was a historic one, Fule stressed. "By its engagement in the dialogue with Pristina, Serbia demonstrated maximal responsibility and Belgrade would have a central role in the implementation of the deal, which would be crucial for peaceful and prosperous future for both sides", Fule said.
Fule denied rumors that he was going to take over the mediating role in further negotiations between Belgrade and Pristina from EU High Commissioner Catherine Ashton. "High Commissioner would continue to facilitate dialogue. At this moment, the focus is on the implementation of the agreement. However, she clearly stressed to both sides that she would support them", Fule said.