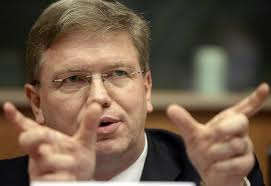 Tirana, July 1, 2013
On the day when the European Union accepted Croatia to be its 28th member, the EU enlargement commissioner, Stefan Fule addressed a message to the Balkan people where he says: "The European Union accepted the 28th member, following Croatia's accession on Monday. This recent accession is another proof of the transforming power of the process of accession, where countries that want to join the EU, make drastic transformations and many reforms in order for them to meet European standards. This accession shows that the EU is approaching the Balkan".
According to Fule, this is a confirmation that the EU integration perspective remains open for all aspiring countries, that show the right will to implement political and economic reforms and prove their respect for European values such as rule of law, democratic principles and human rights.
"Croatia is now ready to join the EU countries, thus creating a more united and stronger Europe. A dynamic unification that we all want to be successful. Therefore, welcome Croatia!", said commissioner Fule. /ibna/