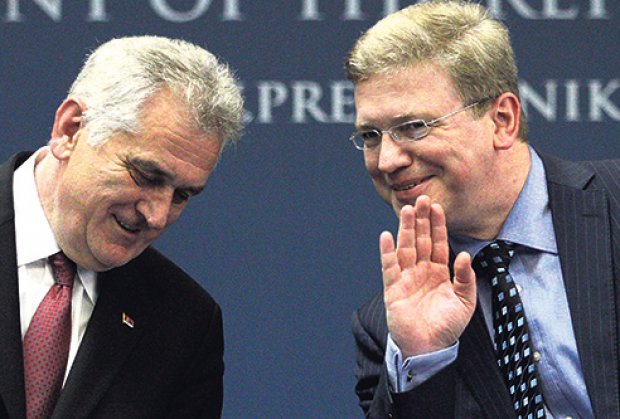 By Milos Mitrovic – Belgrade
European Union has three priorities in its relations with Serbia – economic reforms, rule of law and commitment to normalization of the relations between Belgrade and Pristina alongside with the development of good neighboring relations in the region, EU enlargement commissioner Stefan Fule said in Belgrade today.
After talks with Serbian president Tomislav Nikolic, Fule said that Serbia has achieved major progress in its path towards the EU. "This is the key period for the relations between Serbia and EU", he added.
President Nikolic said that Fule has come in visit to Serbia to support its new government and its "very ambitious program" which is also "very unpopular" from the point of view of citizens. However, Nikolic explained that the objective of the program is "Serbia to get rid of mistakes from the past".
The program Nikolic has mentioned would encompass austerity and firings in order budget deficit to be reduced.
Nikolic said he "don't expect EU to stop any achievements Serbia has made in any way".  "I want country to become EU member, and it will be the member when Union assess that the necessary conditions – which were needed for all the other candidates – are fulfilled; what I know is that, by fulfilling these conditions, we will provide to citizens of Serbia to live in an organized and prosperous country equal to all the other European countries", Nikolic emphasized.
On the eve of his visit to Belgrade, commissar Fule confirmed to "Vecernje novosti" daily that he comes to Serbia in order to congratulate the formation of the new government and to discuss with his hosts on how EU may additionally support Serbia in accession negotiations "which are going well".
Serbia has started accession talks in January and new government led by Serbian Progressive Party leader Aleksandar Vucic was formed on April 27.
When asked about Serbian politics on Russia, Fule has stressed that Brussels "expects from candidates countries to comply with EU rules from the first day of their joining EU". On the other hand, Fule said he cannot realize that Ukrainian crisis has any negative impact on EU's enlargement policy.
Later on Monday, Fule will meet prime minister Aleksandar Vucic.