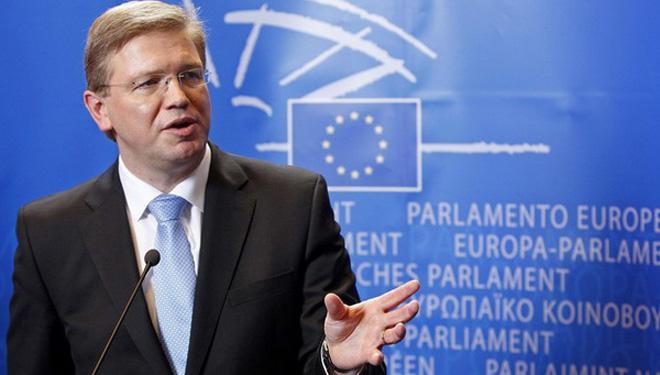 Brussels, October 16, 2013
EU Commissioner for Enlargement, Stefan Fule presented to the Foreign Committee of the European Parliament the progress report for 2013.
In his speech, Fule declared that the process of accession has strict rules, stressing that the rule of law is at the core of the integration process, while structural reforms assist in the improvement of competition.
For Albania, Fule praises the progress made since the December meeting, stressing that the two key acts and parliamentary procedures were voted in the spirit of consensus and the elections were held in a quiet atmosphere.
"As far as Albania is concerned, the commission recommends to the European Union Council to grant the EU candidate status, but by engaging in the fight against organized crime and to intensify efforts that have been started, by addressing the five priorities. First of all, the reform in the administration must continue, secondly, there must be action for the independence and efficiency of the judicial system, thirdly, there must be determination in the fight against corruption, fourthly, the country must make more efforts against organized crime and lastly, there must be effective measures to protect human rights and Roma community along with anti-discrimination policies. The Commission is ready to support Albania to meet these key priorities, engaging for dialogue of high levels", declared Fule.
The five recommendations for the opening of negotiations with Albania:
1-Professional administration not influenced by politics
2-Strengthening of the independence of institutions of justice
3-Fight against corruption
4-Fight against organized crime
5-Protection of human rights, including Roma community. /ibna/