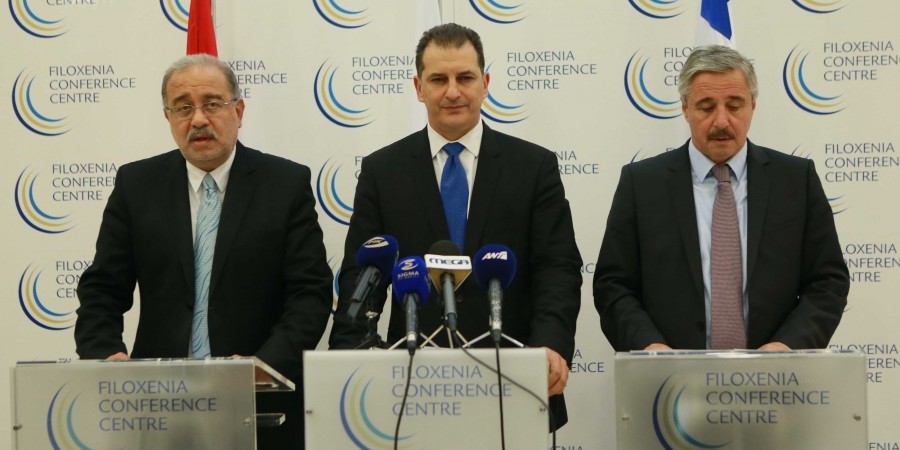 By Kyriacos Kyriacou – Nicosia
"Egypt and Cyprus are deepening energy co-operation, as an apparent anti-Turkey bloc emerges in the Eastern Mediterranean – potentially undermining US hopes that the area's gas finds could reduce regional tensions", according to Financial Times.
The FT article quotes statements from Egypt's petroleum minister Sherif Ismail on the tripartite Egyptian-Cypriot-Greek meeting in Nicosia held Tuesday, saying Cairo would speed up talks to pipe Cypriot gas for domestic needs and possible re-export.
"The use of the gas is a point of heated dispute between Cyprus and Ankara" says FT, which quotes comments made yesterday by Turkish Prime minister, Ahmet Davutoglu. "They should know that if they try to search for oil, natural gas, South of Cyprus we will not allow this. The Mediterranean is also our sea – if necessary, we too will drill."
But the ministers' meeting in Nicosia was only the latest such gathering at a time when Turkey's relations with many of its neighbours have deteriorated, says the article.
The writer also refers to the summit held by Abdel Fattah al-Sisi, Egypt's president, with Nicos Anastasiades, the Cypriot president, and Antonis Samaras, Greece's prime minister, in Cairo earlier this month. 
"Cyprus and Egypt have both also strengthened ties with Israel, whose own relations with Turkey have become increasingly frayed as Ankara has increasingly championed the causes of the Muslim Brotherhood and Hamas".
Nicosia and Cairo agreed on Tuesday to speed up talks for exporting Cypriot gas to Egypt as the island appeared to switch track from onshore LNG to pipelines.
Egypt can receive as much gas quantities as Cyprus can export, Egypt's petroleum minister Sherif Ismail told reporters in Nicosia.
Τhe gas could also be processed so that it can be exported to other countries, he added.
"We are open for any discussions, ready to discuss all options… the pipeline will be direct to Egypt, we have huge LNG market there," Ismail said.
His comments came soon after talks with his Cypriot counterpart, energy minister Giorgos Lakkotrypis, who later met separately with a Greek delegation under Greece's energy minister Yiannis Maniatis.
Tuesday's talks concluded a three-way meeting of the energy ministers of Cyprus, Greece and Egypt.