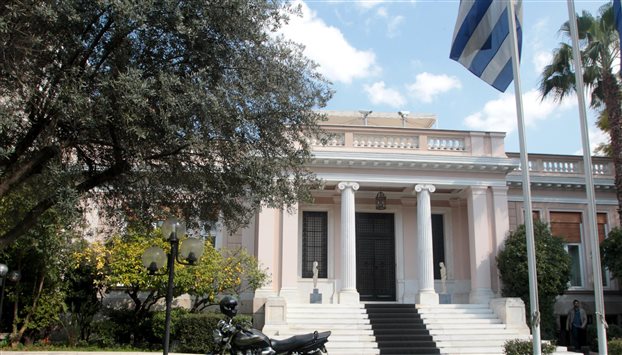 In foreign policy issues, the government's responses range from passiveness to discomfort, while observing Turkey's moves in Syria with "concern".
Prime Minister Kyriakos Mitsotakis has even refrained from using the word "invasion" when it comes to Turkish troops in Syria. The Greek government has not yet clarified whether it considers the invasion a breach of the Lausanne Treaty. The argument that it constituted a police-type operation is certainly not valid, after Recep Tayyip Erdogan made it clear that "as it happened in Cyprus, where a Turkish flag is raised, it never leaves".
Tayyip Erdogan had talked about revising the Lausanne Treaty when he came to our country in December 2017 and had then received a response from both the Prime Minister and the President of the Republic. The Greek government, however, does not react this time, though it fears Turkey's subsequent moves. According to reports from the Maximos Mansion headquarters, it has been proposed as a plausible scenario that when Erdogan is done with Syria he will turn to the Eastern Mediterranean. Greece should await disputes in the Kastelorizo ​​area. The Greek side's response will determine where he will stop.
A New Democracy official with large experience in foreign policy issues estimates that he is most likely to conduct seismic surveys, though he will not go forward with test drills. He will, however, preserve tension and contesting, and he will set the ground for the near or distant future. The same executive said that the Greek government utilizes none of the choices it can make from a range of movements at its disposal. Half the fleet is parked at Poros instead of being in the Aegean. Another MP with heightened sensitivity ironically commented that "society is now dealing with the Joker; there is no time for issues like the Turkish provocations".
However, when it comes to answering who it is between the Foreign Ministry and the Maximos Mansion administration body that practices foreign policy, even the most experienced give up. The only thing for sure is that the foreign minister's force has waned, if not de-valorized by the prime ministerial environment.
The attitude towards Turkey can also be seen as a continuation of the attitude that was adopted for the Macedonian dispute, where the Greek side once again spectates France as it shapes the latest developments by vetoing the accession perspective of North Macedonia and Albania, while Italy builds bridges between itself the two countries, trying to bring the issue back to the European Union. As for Turkey, the Greek government maintains a scared attitude and tries not to displease Erdogan and widen the migration flows. When it comes to the Macedonian dispute on the other hand, the government has no strategy, yet it has a plan of not upsetting the "party's hard-core Greeks". It is this way that inaction becomes a doctrine of the government's foreign policy. /ibna