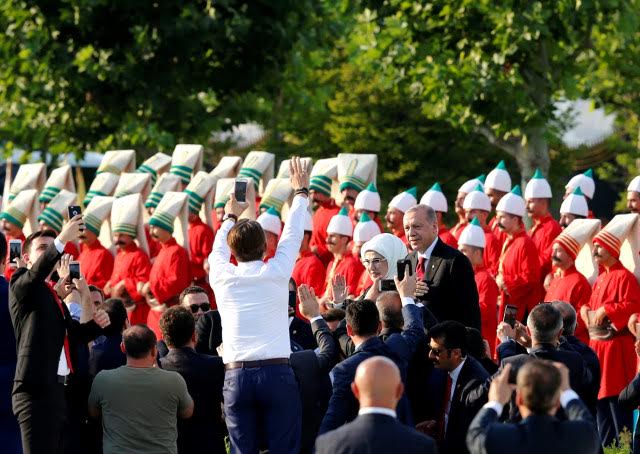 New political system, new term for president Erdoğan, now with vast powers
In a super official way and a grand swear in ceremony, Recep Tayyip Erdoğan changed Turkey's political system and he swore in, in Ankara, at the parliament. Now, he officially enjoys sweeping new powers.
However, the invocation of God will not help him with the country's finances, unless he takes the appropriate steps soon, since the economy in Turkey is crumbling with many experts saying that it might even turn to the IMF for help.
Within only a year, food prices went up by nearly 20%, transport tickets by 23%, inflation is over 15% and loan interest rates have climbed above 17%.
"As President of the country, I swear in my honour and integrity, before the great Turkish nation and history, to work with all my might to protect and honour the glory and honour of the Republic of Turkey and to fulfill my duties which I undertake impartially", the Turkish president said during the swearing-in ceremony in the Turkish Parliament in Ankara.
Later, a procession and the car he was in, being decorated with flowers, Erdoğan arrived at the presidential palace, accompanied by his wife, Emine. On the way to the presidential palace, people were throwing carnations on the motorcade.
Four thousand (4 000) guests attended the ceremony that took place under the falling rain, among them 22 state leaders, vice-presidents, politicians, bureaucrats, and ministers.
The officials who attended the presidential palace ceremony are the Presidents of Bulgaria, Georgia, fYROMacedonia, Bosnia and Herzegovina, Serbia, Kosovo, Pakistan, Kyrgyzstan, Sudan, Guinea, Zambia, Equatorial Guinea, Somalia, Mauritania, Gabon, Chad, Djibouti, Venezuela, as well as the Emir of Qatar and the Turkish Cypriot leader, Mustafa Akinci. Present at the ceremony was also the European Commissioner for Immigration and Home Affairs, Dimitris Avramopoulos as well as Dora Bakoyannis. Athens was represented by the Greek Ambassador to Ankara, Petros Mavroides.
Ecumenical Patriarch Bartholomew was among the guests.
"My God, lead us to the right path. It's infallible. Amen! I will be the president not only of those who voted for me but of all 81 million citizens of Turkey", Erdoğan said, sending a message of unity and giving a religious tone to the way in which the country will be governed.
In Erdoğan's "new Turkey", the post of prime minister is abolished and all executive power is returned to the president. The Turkish president will appoint his ministers as well as one or more vice-presidents.
By a decree issued Monday, the Ministry of European Affairs was abolished, too as, from now on it will  be part of the Foreign Ministry. Also, according to the decree, the years of office of officers will be determined by the presidency. At the same time, the law defining the responsibilities of the Chief of the Armed Forces and the National Security Council on security issues was abolished.
New coins and stamps were issued in honour of Erdoğan's new mandate…. / IBNA