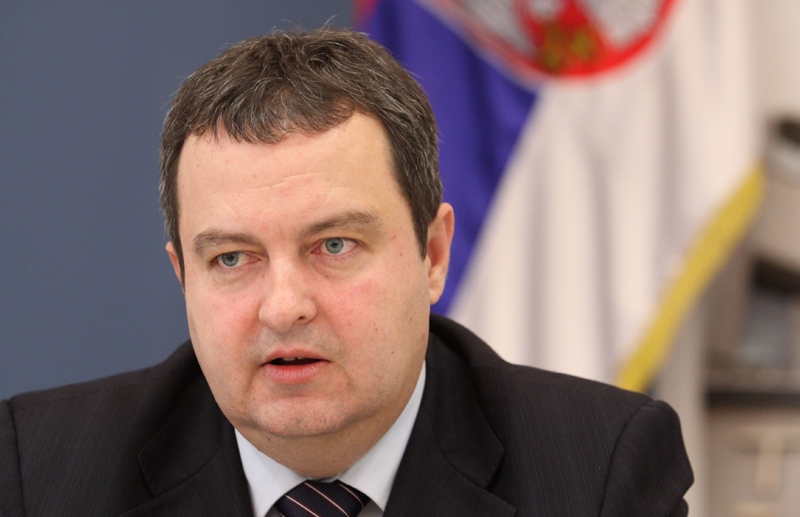 Serbia will forever remain a friend of Russia and will never impose sanctions on it, Acting PM and Foreign Minister Ivica Dacic said in St. Petersburg Thursday.
His statement, made during the official opening ceremony of the St. Petersburg International Economic Forum (SPIEF), was greeted by a huge round of applause, Tanjug is reporting.
Asked to comment on Serbia's "heroic behavior when anti-Russian sanctions were introduced," Dacic started his address in Russian, receiving more applause, and stressed he was particularly honored to lead the Serbian delegation at this year's SPIEF, "which is a chance to strengthen overall economic relations between Serbia and Russia."
Serbia and India have privileged status as the forum's guests, and Dacic thanked the Russian government and Russian President Vladimir Putin – under whose auspices the gathering is being held – for this.
"Like you said yourselves – Serbia and Russia. Serbia will never impose sanctions on Russia, for us this is not only a political, but a moral issue. Friends remain friends forever," Dacic stressed, and added that Serbia also would not change its policy of military neutrality.
Serbia is attending the 21st SPIEF, "which speaks to the tradition of the manifestation that brings together heads of governments and most important representatives of global business," he said.
Dacic remarked that Serbia on Wednesday got a new president, Aleksandar Vucic, who took over "and said that Serbia will, with its new leadership, continue to be a factor of a policy of peace and stability in the region."
When the moderator asked jokingly "how Serbia manged to convince both Russia and Europe that it should hang out with both," Dacic stressed that his country is "a sovereign country, taking care of its interests."
He explained that Serbia is located in a part of Europe that is not as developed as some other European countries, "like Norway," and that Serbia's interest is to be a part of an economic union like the EU, "for the sake of the people's better lives."
"But, on the other hand, we will not allow that strategic interest to be conditioned by some political issues that impinge on our national and state interests, such as the issue of Kosovo and Metohija," he said.
According to Dacic, "we said it clearly that Serbia is a country that was experimented on, to have a part of its territory secede unilaterally, without reaching agreement with us, and then, for that to be recognized by a large portion of Western countries, who before this bombed Serbia."
Dacic noted that French philosopher Bernard Henri Levy was in Belgrade recently, when a cake was thrown at him for advocating the bombing of Serbia in the past. And despite the fact he has been hit by cakes in many other European countries, Levy got "very mad" about the Belgrade incident, said Dacic.
"He was mad because he got a cake – Serbian citizens would have been over the moon if NATO targeted them with cakes instead of bombs," the minister said.
He repeated that Serbia's policy is that of military neutrality – "but not at the price of being anti-Russian."
Dacic also used the opportunity to wish success to UN's new secretary-general, Antonio Guterres – who is also in St. Petersburg.
"The UN is the organization that Serbia likes the most, it's not a tough choice, all the others are under the influence of Western countries," he said.
Dacic observed that "whenever somebody visits from Washington, the first thing they ask about is the Russian influence in Serbia."
"It's as if we seem to be your (Russian) island in that part of Europe. I recently said this to a diplomat, that he's seen too many movies," Dacic said.
Dacic said that "our (Russian-Serbian)" humanitarian center in Serbia's southern town of Nis is "often presented as a Russian spy center – and Serbia as wanting to destabilize the region."
For that reason, he continued, "as they said during the time of Josip Broz Tito," what is needed is a detente – the easing of tensions, "and extending our hands toward each other."
"We are grateful to Russia, you helped us when times were hard. Well, what kind of nation and state would we be, if we were to impose sanctions on you, and then count on your support in the UN. Serbia is not so to work against itself," Dacic stressed./IBNA
Source: B92