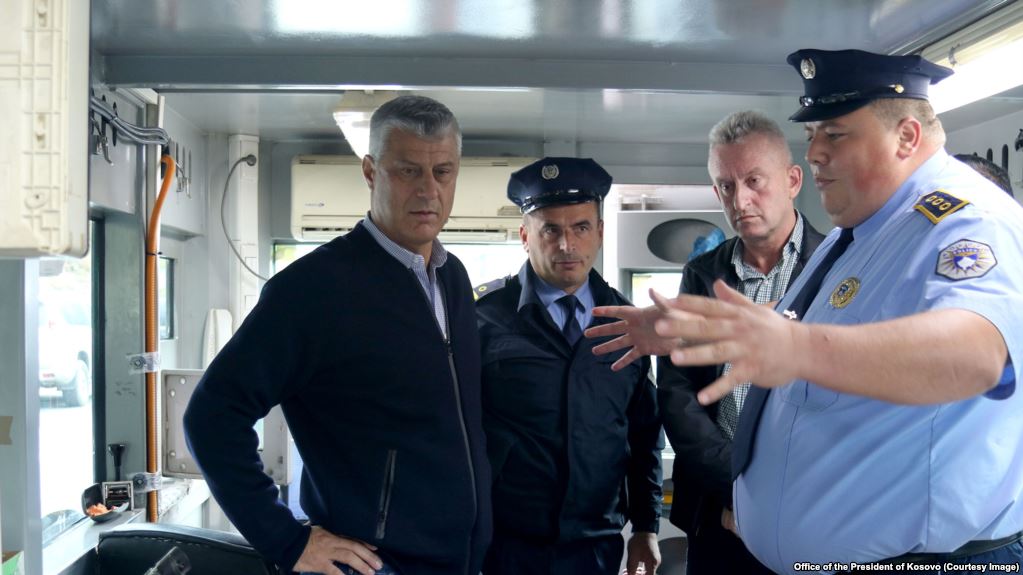 President of Kosovo, Hashim Thaci visited on Saturday the border crossing point of Bernjak in the north of Kosovo. On his way back, he also visited Gazivoda Lake.
During this visit, Thaci was escorted by ROSU special unit forces and this sparked strong reactions in the Serbian capital, Belgrade.
Asked by journalists if plans for border changes included giving this lake away to Serbia, Thaci said:
"Today, from this beautiful location of the Republic of Kosovo, I would like to send out a clear message: let us work together for a new Kosovo, for Kosovo in the NATO and EU. Kosovo is one, independent and sovereign".
On his part, Serbia's president, Aleksandar Vucic said that the entry of Kosovo's special forces in the Serb territory is an "armed attack carried out by bandits".
"The operation involved 110 to 130 members of Kosovo's special forces, who demonstrated a brutal behavior against several people", Vucic said.
Vucic has ordered the Serb army's chief to put the armed forces in a state of alert.
The European Union said that it's in touch with all relevant players following the reactions that the visit of the president of Kosovo, Hashim Thaci had on Saturday in Gazivoda Lake, in the north of Kosovo.
"As always, we expect the sides to maintain composure", said Maja Kocijancic, spokesperson of the EU chief of diplomacy, Federica Mogherini. Meanwhile, NATO's peacekeeping mission in Kosovo, KFOR, has also called for the sides to maintain their composure. /ibna/