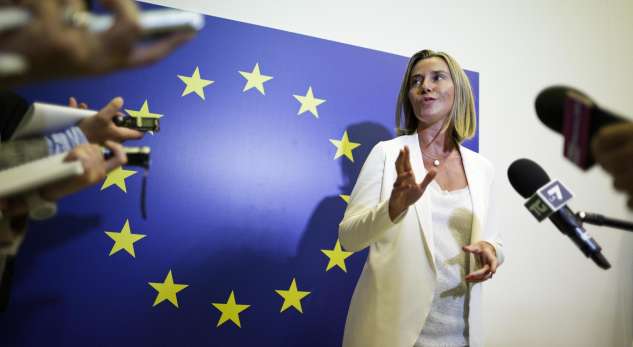 IBNA Special Report
Pristina, February 9, 2015/Independent Balkan News Agency
By Elton Tota
A new round of talks will be launched today in Brussels for the normalization of relations between Kosovo and Serbia.
Present in the meeting called by the EU chief of diplomacy, Federica Mogherini will be the Prime Minister of Kosovo, Isa Mustafa and his Serb counterpart, Aleksandar Vucic.
Present in the meeting will also be the former two leaders of the delegations, now foreign ministers, Hashim Thaci and Ivica Dacic.
Although the official agenda of the February 9 talks is not known, the new round is expected to discuss non finalized issues and also recent issues.
Head of EU diplomacy's spokeswoman, Maja Kocijancic, said that the first round will review the progress reached so far and that it will determine the framework for the next talks.
"The two PMs will review the progress that has been made so far and are expected to decide how to advance in the process of the normalization of relations", declared Kocijancic.
Meanwhile, minister of Foreign Affairs, Hashim Thaci was optimistic about the finalization of the agreement on the justice system today in Brussels.
Thaci said that besides this, there will also be an assessment of the agreements reached so far.
"On Monday, we shall open in Brussels a new chapter of the talks between Kosovo and Serbia. I believe that tomorrow, we will finalize the agreement on the justice system and fully appraise the agreements reached so far. Normalization of relations between the two countries is necessary to speed up the Euro-Atlantic process", declared Thaci.
Analyst from Kosovo, Halil Matoshi, says that today's meeting is expected to bring back on the table of talks pending issues from the last meeting held last year.
"Both countries must agree on the court in the north of Mitrovica, on the Association of Serb Communes and railway and telecommunication", says Matoshi.
Matoshi doesn't expect this phase of the talks to mention the case of Aleksandar Jablanovic or Trepca, which shocked the political life in the recent weeks.
According to him, there will be efforts to conduct a serious process of talks.
Meanwhile, analyst Besa Luzha says that these talks must be different, in both content and form.
"I expect the errors that have been made during previous processes to be improved and for the agenda to be decided by Kosovo, thus giving priority to important issues and by insisting for Serbia not to prevent the normal functioning of the state", says Luzha.
Luzha is expecting the issue of the Serb List to be discussed and for this political subject to report only to the institutions of Kosovo and not the institutions of Serbia.
She's also expecting topics relating to the Serb List and Trepca to be imposed in the talks by Serbia. /ibna/