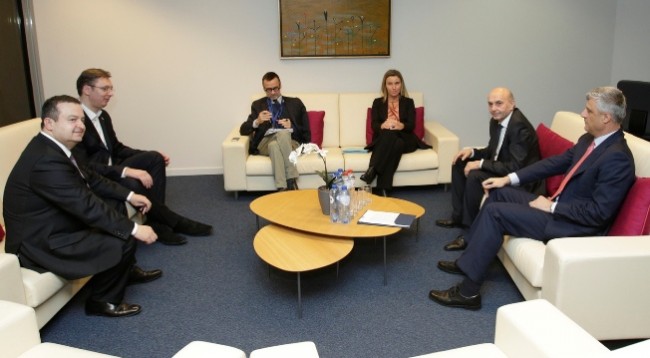 IBNA Special Report
Pristina, April 21, 2015/Independent Balkan News Agency
By Elton Tota
Prime Minister of Kosovo, Isa Mustafa and that of Serbia, Aleksandar Vucic will hold a fresh round of talks today in Brussels.
The news was confirmed by Maja Kocijancic, spokeswoman of the EU head of diplomacy, Federica Mogherini.
"Both prime ministers will review the progress made so far in the implementation of the agreements that have been reached in previous meetings and they will discuss further steps for the normalization of relations", said Kocijancic.
This meeting follows the meeting of February 9, when both countries reached a deal for the justice system in the framework of the normalization of relations.
Meanwhile, last week, deputy Foreign Minister, Petrit Selimi said that the meeting which will be held today in Brussels, may finalize the agreements for the telephone country code and the integration of northern communes in the energy system of Kosovo.
Analysts in Pristina told IBNA that the talks held so far have not had an impact in the normalization of relations between the two countries.
Political analyst, Vilhard Shala told IBNA that the last declaration of the head of the Serb state in relation to the visit warned by Kosovo's Foreign Minister Hashim Thaci to Belgrade, show that Serbia is not interested on having good neighboring relations with Kosovo.
"It's absurd that the PM of Serbia, Aleksandar Vucic openly declared that the Kosovo diplomat will be arrested if he steps on Serbia's land. The same thing was also declared by Foreign Minister Ivica Dacic. Meanwhile, today in Brussels they will be talking to the Kosovo side for the improvement of relations between the two countries", Shala said.
On the other hand, analyst Shkelzen Dakaj told IBNA that senior EU officials are using double standards as far as the normalization of relations between the two countries is concerned".
"If up until now, the international community has helped in order to allow Serb leaders to come to Kosovo, why can't they do the same thing with Kosovo leaders if they want to visit Belgrade? Why are international leaders using double standards. We see this double standard even on the declaration issued by Vucic, who said: "Laws in Serbia exist and these laws will act if Thaci will arrive to Belgrade". Nobody in Brussels has intervened or suggested what can be done in case Thaci visits Belgrade", Dakaj says.
Analysts say that the talks held in Brussels between Kosovo and Serbia have had a bad start without the necessary preparations. They're skeptic about the fact that good cooperation or a treaty of peace will be entered by the two countries. /ibna/