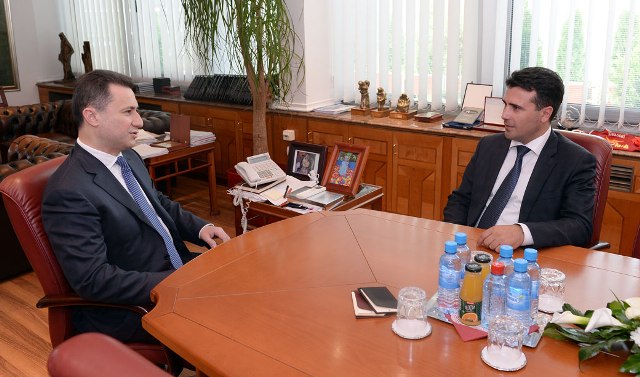 Skopje, 6 June 2016/Independent Balkan News Agency
Another clash between VMRO-DPMNE of former Prime Minister Nikola Gruevski and SDSM in opposition.
This time, the clash stemmed from a declaration issued by Gruevski's party, which accuses SDSM of implementing a destabilization plan for the former Yugoslav Republic of Macedonia.
VMRO-DPMNE's declarations haven't even spared the foundation run by the billionaire George Soros. "SDSM's aim and the aim of Soros' structures is to make the crisis and instability in the country last longer", said today (06.06) Vladimir Giorcev, member of VMRO-DPMNE's Executive Committee. He added that the country "has the capacity to overcome the crisis".
Giorcev demanded from SDSM leader, Zoran Zaev, to demand president Ivanov to withdraw his decision to pardon former president Branko Crvenkovski.
The VMRO official said that if Zoran Zaev doesn't do this, then he must offer his irrevocable resignation from the post of the leader of SDSM. According to VMRO, Zaev must respond in front of the courts in FYROM for abusing with eight million euros. "Macedonia has no place for politicians who have been pardoned for crimes involving millions", said the VMRO-DPMNE official.
SDSM received this request and accusation addressed by VMRO without expressing any signs of concern. In an official statement, this party was being ironic by asking this party if its leader Gruevski had gone to vote in the June 5 elections, elections which were annulled, but even though they were boycotted by all parties, VMRO-DPMNE said that it was ready to participate on its own.
SDSM says that it will not tolerate irregular elections in the future. "Nikola Gruevski can try all he wants, but there will be no other criminal elections in Macedonia. There will only be free, fair and democratic elections".
At the end of its statement, SDSM says that "reforms with Gruevski, who is responsible for the state crisis, economic and political crisis, are not possible".
This was immediately followed by a declaration by VMRO-DPMNE, which said that SDSM is the only opposition party in the world which rejoices over annulled elections. For VMRO-DPMNE, this is absurd and ridiculous. /balkaneu.com/