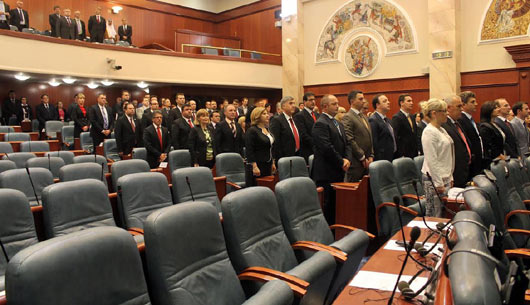 Skopje, May 29, 2014/ Independent Balkan News Agency
By Naser Pajaziti
VMRO-DPMNE in power and LSDM (Macedonian Social Democratic League) in opposition have been involved in fresh clashes and accusations following the resignation of all Macedonian opposition MPs.
VMRO-DPMNE is strongly reacting following the resignations, stressing that they must be held accountable for their decisions which 'damage the state's interests'.
"LSDM and its MPs must be aware of the responsibilities that they have. With this step that they're taking, they're causing a great damage to the country, state and national interests", declared VMRO-DPMNE official, Ilija Dimovski.
According to him, Macedonian opposition has lost orientation and that this decision can also have an impact in the Euro integration process of the country.
But, LSDM has reacted today through a press statement against the accusations launched last evening by Dimovski.
"Nikola Gruevski and VMRO-DPMNE are the only responsible ones for the crisis and the threats against state and national interests. In case Gruevski cares about the country, he must free institutions, the media and judiciary system and create the necessary conditions for free and democratic elections, where the citizens can freely express their will", reacted LSDM.
According to LSDM, VMRO-DPMNE is panicking and is trying to find "traitors" and "scapegoats" for the serious situation in the country, which is a result of its 8 years in government.
The political crisis in the country is aggravating more and more, after yesterday's decision of opposition MPs to resign from their mandates. But, other opposition candidates for parliament are also expected to resign. After this, based on the electoral code, fresh partial elections must take place.
Media in favor of the government have warned that these partial elections can be held at the end of the year, when all the procedures for the resignation of the opposition candidates are completed. But, different analysts warn about the possibility of fresh early elections, for a new confrontation between VMRO-DPMNE of Nikola Gruevski with Macedonian opposition which doesn't recognize the April 27 elections and demands fresh elections through a technical government. /ibna