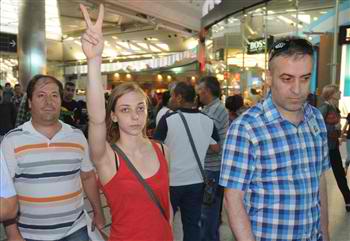 She was near the Gezi Park in Istanbul in June 11th, found refuge in a nearby Socialist Democracy Party (SDP) branch during police intervention and paid the price. Elisa Couvert, a 24-year-old French student, was deported by order of the Turkish judicial authorities.
According to daily Hürriyet, Couvert appealed on Friday for the cancellation of the court's decision to deport her. She claimed the deportation was not based on any written justification, since the prosecutor acquitted her of the charges before releasing her.
Couvert was initially accused of being a French spy, who tried to incite a revolt in Istanbul, but these accusations crumbled upon the court's hearing. She was asked to give a detailed account of her life in Turkey, including the thesis she was currently writing, and was treated "as a terrorist" despite entering the building simply by chance. "It is difficult to understand why a political party would be treated as such," Couvert said.
She studied at Galatasaray University two years ago as part of the Erasmus exchange program, and had been writing a thesis on "Kurds who learn Kurdish later" for her master's at Paris's VIII University.
Source: Hürriyet