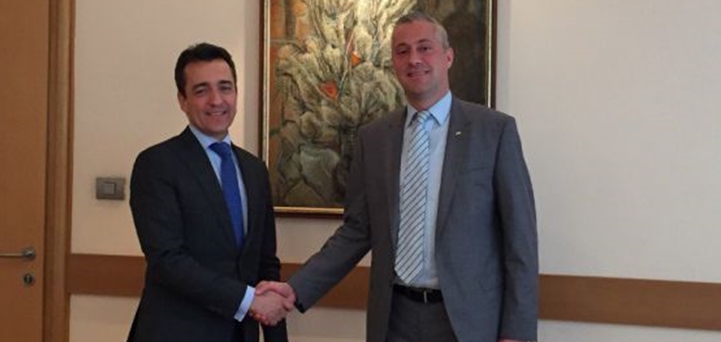 Sofia, December 12, 2014/ Independent Balkan News Agency
By Clive Leviev- Sawyer of The Sofia Globe
French investors in Bulgaria have problems in communicating with government departments, especially regarding applications for European programmes, France's ambassador in Sofia, Xavier Lapeyre de Cabanes, said at a meeting with the country's economy minister.
At the December 11 meeting with Bulgarian Economy Minister Bozhidar Lukarski, the French ambassador also reiterated his concerns about pressure on the judiciary, some days after the envoy's comments on "rotten apples" in the judiciary returned the issue to national prominence.
The ambassador's "rotten apples" comment, in a December 5 television interview, was prompted by the judge's handling of a bankruptcy case of a French company's Bulgarian subsidiaries and the suspension of their boards, where the company alleges that the matter was dealt with incorrectly.
Judge Roumyana Chenalova, who denies wrongdoing, became the subject of an ethics committee investigation by the Supreme Judicial Council.
The case also has highlighted shortcomings in the system of "random" distribution of cases to judges for hearing, with an investigation resulting in recommendations to fix the system.
After his statements on television, the French ambassador also held talks with Prime Minister Boiko Borissov, but the cabinet media office made no statement on the content of the talks. The ambassador also met the justice minister and has informed the Prosecutor-General, the Supreme Judicial Council and two of the deputy prime ministers, Meglena Kouneva and Tomislav Donchev, about the bankruptcy case.
At the meeting with Lukarski, the French ambassador pointed to unfair competition's attempts at exerting pressure on the judicial system as one of the obstacles faced by businesses. Another obstacle that French investors face is communication with institutions, especially when applying under European programmes.
According to the economy ministry, Lukarski assured the ambassador that the government was making every effort to ensure a favourable business environment.
"Trade and economic relations between Bulgaria and France are good, but I think we can give further impetus to attract new investors in Bulgaria and at the same time increase the presence of Bulgarian goods on the French market," Lukarski said.
Initiatives to boost bilateral relations and raise Bulgaria's profile as an attractive investment destination were discussed at the meeting. Numerous examples could be provided of successful projects realised by French companies in Bulgaria, the statement said.
Among them is a plant manufacturing parts of engines for leading car brands in Rousse, a company producing malt in Pleven, which is also considering an investment estimated at 20 millioneuro to build a second plant in the country.
"The very fact these are serious investors in Bulgaria, planning additional business investments, is a positive indication for other potential investors," Lukarski said.
"This gives us a basis to strive to strengthen Bulgaria's position as an appropriate place for investments and to work to attract further investments," he said.