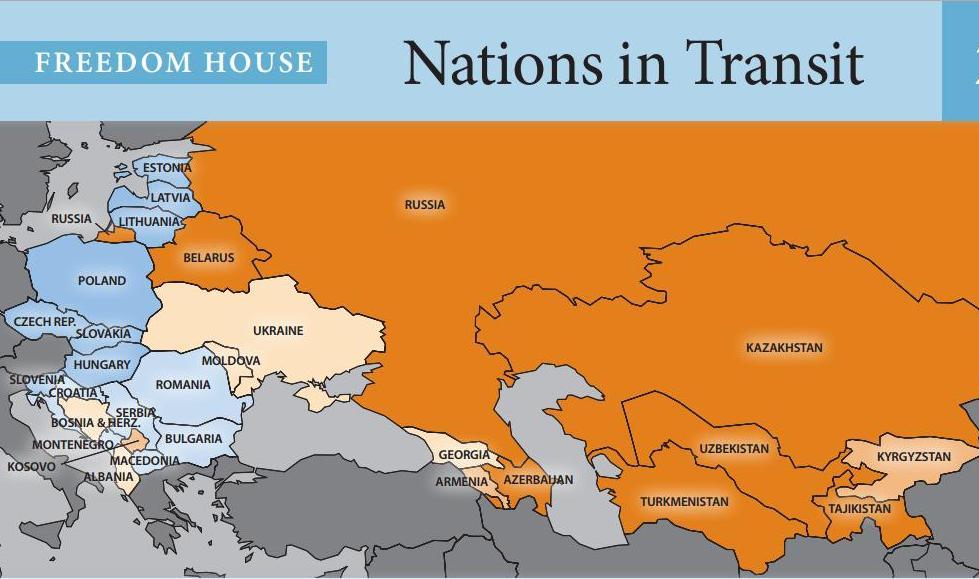 Skopje, June 12, 2014/Independent Balkan News Agency
By Naser Pajaziti
Freedom House organization has published the "Countries in transition " annual report, on the democratic processes of the 29 countries in development of the Central Europe and Eurasia regions. In this report, FYR Macedonia falls under the category of transitional/hybrid regimes, being considered as partially free.
FYR Macedonia is ranked among the partially free countries, in terms of the fight against corruption, bad situation with the media and judiciary system. The rating that the country has been given is 3,25-5,00.
The worst rating is given to the situation in the media, namely a 5 rating.
The rating for the high level of corruption, central and local government, judiciary system and it's fragile independence is 4,25.
The ratings that Freedom House gives range from 1 to 7. Ratings from 1 to 2,5 apply for countries with a consolidated democracy, from 3 to 5 for countries partially free and 5,5 to 7 for countries which are not free.
The report also describes the overall situation, where a number of problems are identified.
The country is paralyzed by a political crisis which has erupted in 2012, when the government of prime minister Nikola Gruevski, ousted through the use of force from the parliament hall members of the opposition and journalists, at a time when the annual budget was being debated.
Opposition MPs boycotted parliament and intervention from the European Commission and other international institutions was needed in order to bring back the main opposition party to parliament and to convince it not to boycott March 2013 local government elections. The report also describes the case of the journalist Tomislav Kezarovski, who in 2013 was sentenced to imprisonment for allegedly leaking the identity of a protected witness in a murder case.
At the end of December, parliament approved the controversial legislation to draft a regulatory law for the media, but with the influence of the government. /ibna/