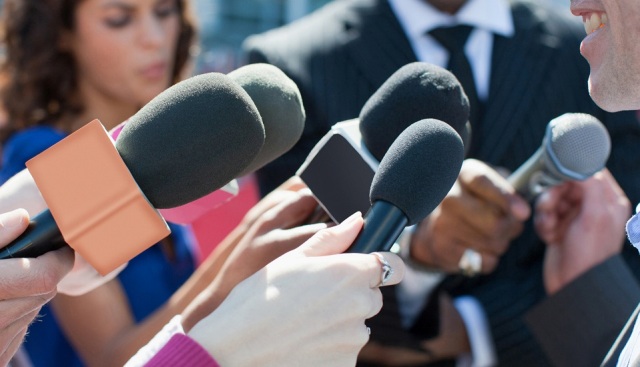 Skopje, April 29, 2015/Independent Balkan News Agency
By Naser pajaziti
Freedom of media and the safety of journalists during the course of their duty continues to be threatened in FYROM. In the past week, several incidents have been registered, involving journalists and where violence and pressure have been exerted.
There are four cases of journalists which have raised the alarm for the situation in the media. TV journalist, Sitel Ilovski, said that he was a victim of a verbal attack. The prominent journalist, Antonio Dimitrievski was also a victim of an attack launched against several opposition activists. A violent incident was also registered in Manastir (Bitola), where INA news agency journalist, Fergim Demiri, was attacked by two guards of the Culture Center, who didn't allow him entry in a cultural activity.
These cases have alarmed associations of journalists and media representatives. The Association of Journalists in FYROM, has strongly reacted against these cases, stressing that the freedom of speech and the profession of the journalist is being threatened.
Zaneta Zdravskovska, head of the regional center of the Association of Journalists, told IBNA that the freedom of speech must be guaranteed and respective institutions must guarantee the safety of journalists.
A more outrageous incident relates to a funeral wrath with a threatening message sent to the home of the journalist Borjan Jovanovski. The Association of Journalists has expressed its concern, by informing the international community on this incident where a journalist receives a death threat.
But, pro government media and PM Nikola Gruevski said that the funeral wrath near the home of the journalists was a premeditated act of Macedonian opposition circles.
OSCE too has expressed its concern for the situation with journalists and violence against them.
OSCE representative for the freedom of the media, Dunja Mijatovic, said that the situation with the death threats against journalists is becoming even more serious and according to her, this is a great concern.
"The latest threats against media re concerning. Media must remain free of threats which aim at killing independent and critical voices in society. I call upon the authorities to investigate these attacks. These incidents do nothing else but deteriorate the situation with the media, whereby a while ago, there were arrests and jail sentences given to journalists and death threats. This trend must be changed", reacted Mijatovic.
But, pro government journalists have continued with their language of hate being part of the campaign known as "Protect your country". The head of a TV program which favors the government, Milenko Nedelkovski has written in his profile in social networks that "there will be a final confrontation with critical media" which he has called 'prostitutes' connected to the "Open Society" organization or George Soros.
Meanwhile, incidents with journalists have recently become more frequent and this has sunk the country into a deep political crisis caused by the wiretapping scandal. /ibna/