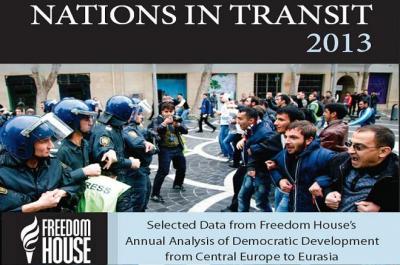 Skopje, June 18, 2013
In the annual report "Nations in transition 2013", Freedom House launches criticism for FYR Macedonia and the Balkan countries.
FYROM is ranked amongst the partially free countries and has been rated with 3,25-4,25 as far as the fight against corruption and the freedom of media and reforms are concerned.
According to this report, Central Europe and Central Asia countries are more and more being ruled by autocratic governments, which have little consideration about democracy.
The report states that corruption in the Balkan region has continued to grow, in spite of the pressure of the European Union and international institutions to strengthen the independence of the judicial system.
"Journalists, especially those who cover organized crime and corruption, face political pressure, threats and attacks. Amongst these countries are Albania, Bosnia and Kosovo", reports Freedom House.
According to the report, Croatia is ahead of FYROM, while the country is ranked amongst countries such as Serbia, Albania, Kosovo and Bosnia and Herzegovina. Free countries are rated from 1 to 2.5, partially free countries from 3 to 5 and countries which are not free from 5.5 to 7. /ibna/