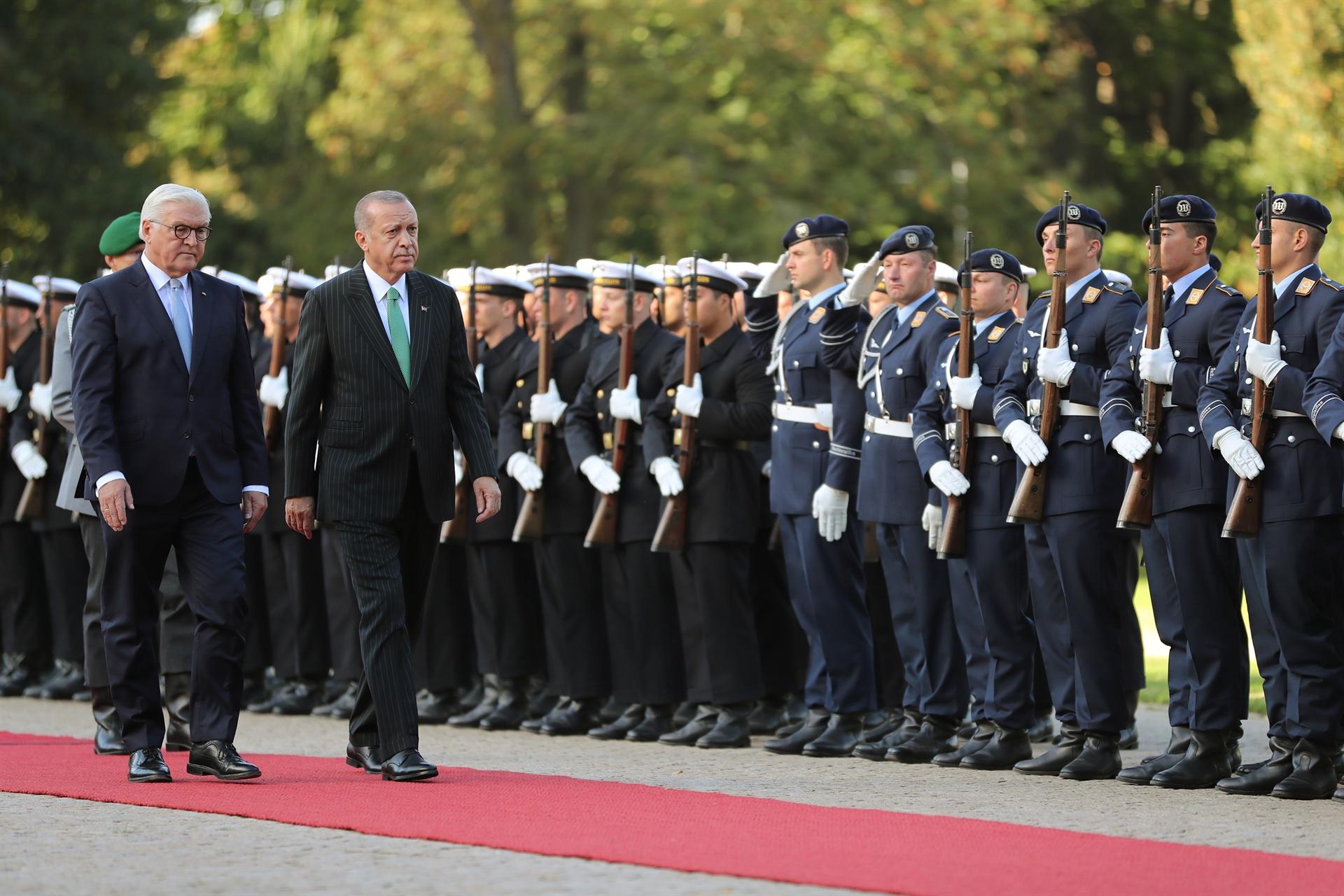 The Turkish President Recep Tayyip Erdogan who arrived in Berlin on Thursday for a three-day visit together with the First Lady, Emine Erdogan, was received earlier this Friday by the German President Frank-Walter Steinmeier with full military honours at the Schloss Bellevue presidential palace.
The improvement of the political and economic bilateral relations topped their meeting.
Later on Friday, the Turkish leader is scheduled to meet with German Chancellor Angela Merkel.
"Ahead of his visit, Erdogan called for opening a fresh page in Turkish-German relations, in an article published in German daily Frankfurter Allgemeine Zeitung", Anadolu explains.
"The dramatic developments in the world make it indispensable for both Germany and Turkey to open a new page in bilateral relations, to leave aside their differences and focus on their common interests."
German Chancellor Angela Merkel is expected to discuss human rights issues with the president of Turkey who, according to DW "is set to face criticism over" them (and the present situation in Turkey with thousands of people imprisoned, foreigners -Germans, too- among them due to their beliefs or due to vague "indications" of them being Gulen's supporters. Civil employees, military staff, journalists, opposition politicians and also the American pastor Andrew Brunson are some of those Erdogan is against and has put them behind bars.
"The human rights situation is not the way I would like to imagine it", Merkel said on Thursday evening at an event in the southwestern German city of Augsburg, DW reads.
Thousands of police officers have been deployed in Berlin in order to safeguard that everything will run smoothly during the Turkish head's visit to the German capital.
On Saturday, Erdogan will travel to the federal state of North Rhine-Westphalia, home to many Turks who have emigrated to Germany. As Anadolu has reported, "In Cologne, Erdogan will attend the inauguration ceremony of Cologne Central Mosque, run by Turkish-Islamic Union for Religious Affairs."
German high officials are against providing Turkey with financial aid that would be destined for its ailing economy. Meanwhile, Germany's minister of state for Europe at the Foreign Ministry, Michael Roth who also shares Chancellor Merkel's objections to the current course of human rights in Turkey, linked the issues with each other, thus "creating" an intertwined reality. He has underlined that "many German companies would invest in Turkey again if the country returned to democratic and constitutional principles", reads DW. His stance is a message to Erdogan himself and the autocratic way he runs the state… / IBNA
Main Photo: Turkish President Recep Tayyip Erdogan (R) is received in Berlin by his German counterpart, Frank-Walter Steinmeier with full military honours, 28 September 2018