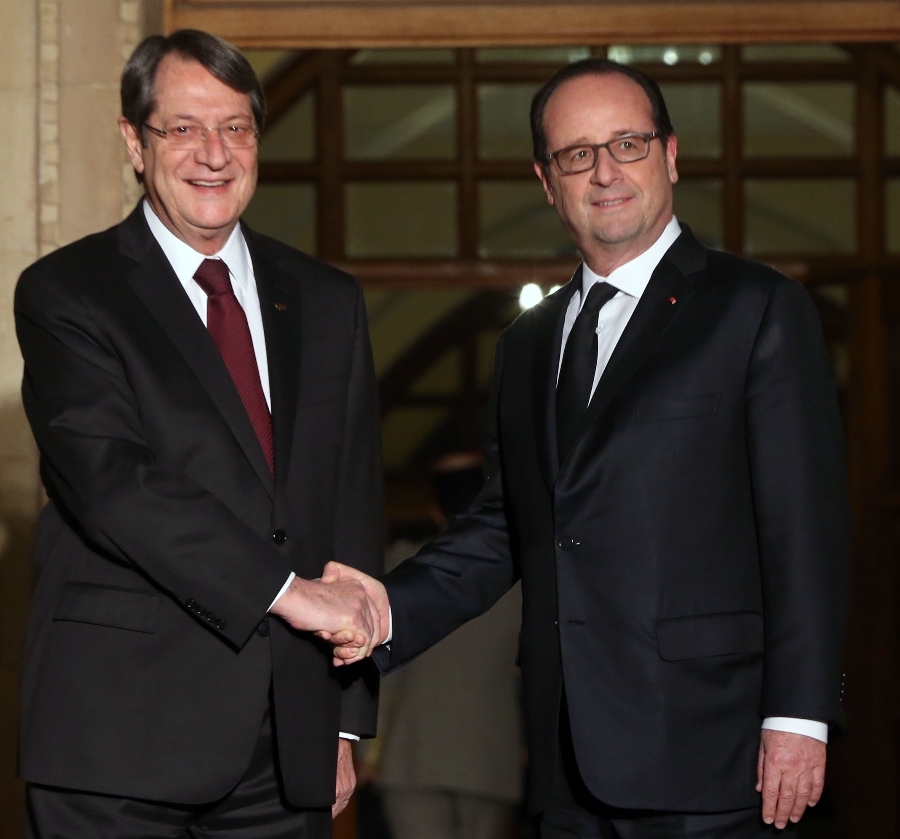 The President of Cyprus Nicos Anastasiades met, yesterday evening, 9 December 2016, with the President of France Francois Hollande at the Presidential Palace. President Hollande was welcomed by President Anastasiades while a military guard presented honours.
The National Anthems of the two countries were performed, followed by the laying of a wreath by President Hollande at the Monument of the First President of the Republic of Cyprus, Archbishop Makarios III.
The two Presidents then had a private meeting followed by their remarks to the Media.
In his remarks, President Anastasiades said, among other things, that President Hollande is in Cyprus at a critical juncture in the negotiations to solve the Cyprus problem, and thanked President Hollande for France's support over the years in the efforts to achieve a just, viable and functional solution, on the basis of the UN resolutions and the values and principles of the European Union, for the benefit of the people of Cyprus, Greek Cypriots and Turkish Cypriots.
Referring to the solution of the Cyprus problem, President Anastasiades said that the solution must mandate that one of the 27 EU member states does not need the guarantees of whichever third country that will also affect the effective participation of Cyprus in the EU.
He added that during their meeting they also discussed the strengthening of the bilateral relations between the two countries, including the issue of cooperation on Energy.
On his part, President Hollande, speaking through an interpreter, said, among other things, that the reason he is in Cyprus is "to support the negotiations so that a solution is found for the Cyprus problem based on the UN Security Council resolutions and based on the parameters that have been set." He added that "what we want is for a solution to be found, and what we must do is to support the process, its content, but also the framework of this process."
He also said that "we believe that Europe must be present in order for this process to be supported by the European Council; and I believe that the desire for the presence of the EU in the negotiations also exists." He further noted that with regard "to the issue of the presence of the Permanent Members of the UN Security Council, France is willing to play a useful role in this process and we are in fact eager to respond positively".
Following their remarks, the two Presidents along with their delegations attended a working dinner./IBNA
Photo: pio.gov.cy