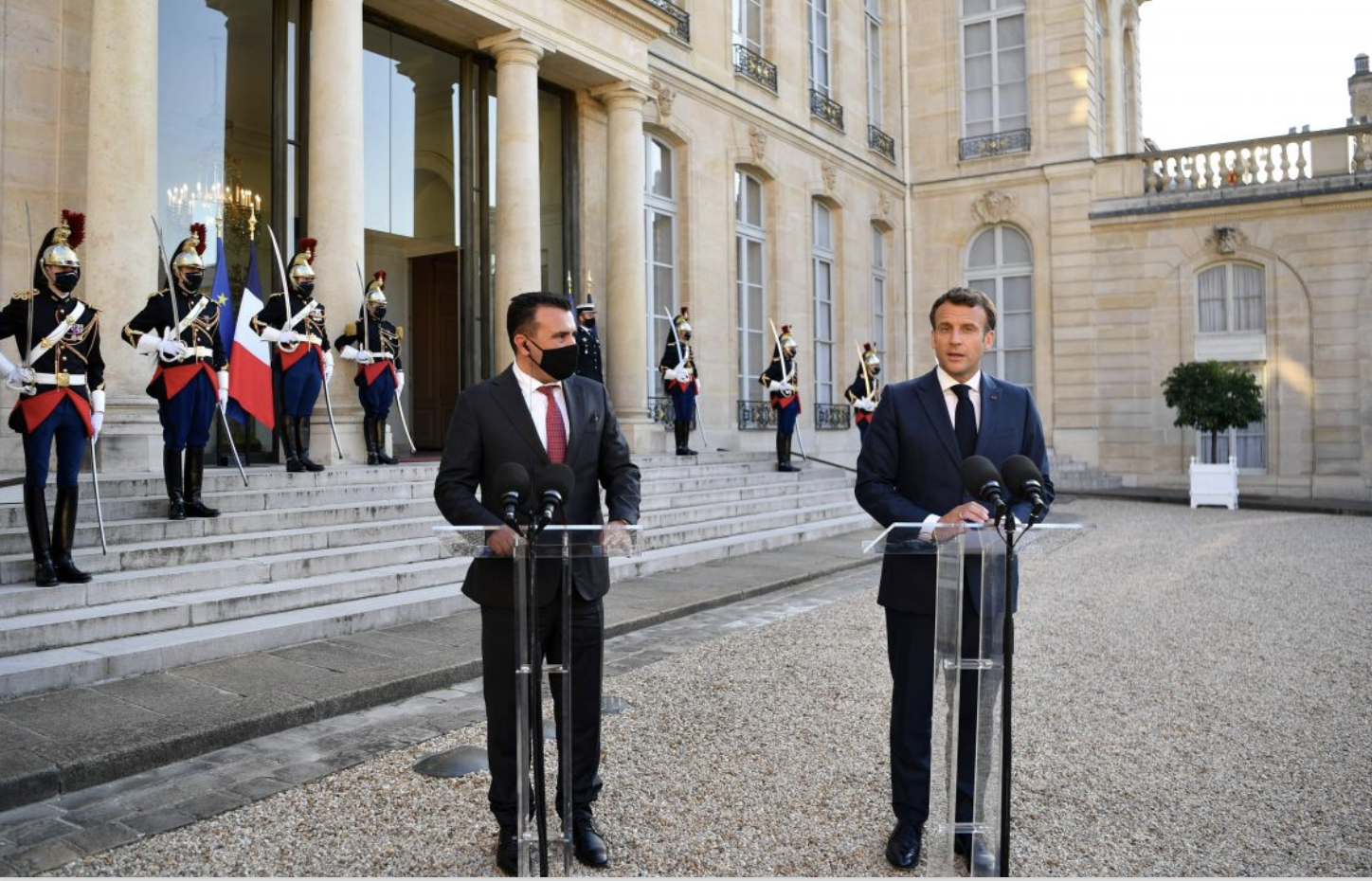 The Prime Minister of the Republic of North Macedonia, Zoran Zaev, arrived on Thursday for a working visit to the Republic of France. At the Elysee Palace, Prime Minister Zaev was welcomed by the President of the French Republic, Emmanuel Macron, followed by joint statements to the media.
"It is very important for us that France supports the process of accession of North Macedonia to the EU, with clearly defined standards and without wasting time. Ahead of us is the European Council Summit in June, which is a real opportunity for a step forward and a solution that will remove the blockade on our European course. Dialogue brings solutions, and the most important prosperous solution before us is the solution for the start of negotiations, which will be approved by all EU Member States," said Prime Minister Zaev.
He stressed that the proposed solutions of the Portuguese Presidency are a good basis and that the country is ready for a bilateral dialogue that will bring a reasonable and mutually acceptable agreement under the Friendship and Good Neighbor Agreement with Bulgaria, emphasizing that the issues of Macedonian language and identity cannot be at the negotiating table.
The President of France, Emmanuel Macron, in his statement stressed the progress of North Macedonia, which he characterized as excellent.
"The European Union decided in March last year to start negotiations with your country and now is the time to make this decision concrete and France actively supports it. North Macedonia deserves to start negotiations without delay. "I am personally involved in finding a solution with Bulgaria," President Macron said in a statement before the working dinner.
Zoran Zaev expressed special honor and gratitude to the French President who said that he has a special place in the development of the Franco-Macedonian friendship, especially through the public support for the referendum for the Prespa agreement in 2018, which proved its support for its reform agenda in Northe Macedonia and the region.
"It is a great honor to have this working dinner at the Elysee Palace. Today's meeting enriches our friendly bilateral ties, the year that marks the 28th anniversary of the establishment of diplomatic relations between North Macedonia and France," Zaev said, adding that the opening of the French Development Agency office in Skopje awaits a new dynamic. cooperation and huge opportunities for expanding economic and trade, as well as investment, especially in the fields of infrastructure, energy, military industry, wastewater treatment plants and other sectors.
The Prime Minister of North Macedonia Zoran Zaev was accompanied by the Deputy Prime Minister for European Affairs Nikola Dimitrov and the Minister of Foreign Affairs Bujar Osmani./ibna