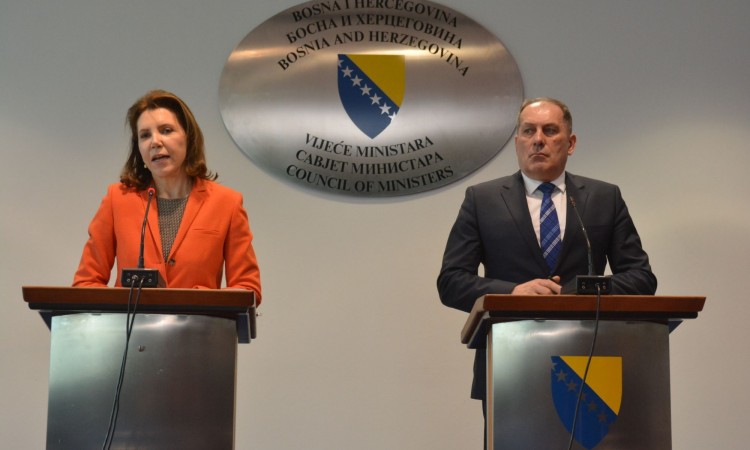 Sarajevo, March 30, 2016/Independent Balkan News Agency
By Mladen Dragojlovic
The French ambassador in charge of fighting organized crime, Michèle Ramis, begun her first visit to BiH and held on Wednesday a meeting with the BiH Minister of Security, Dragan Mektic. They concluded that the return of  militants from foreign battlefields, especially Syria, is the biggest security challenge in the fight against terrorism in France and BiH.
"BiH is a partner with whom we want to work, and we welcome the efforts that this country is making in the field against a variety of threats. France will support all of these efforts", Ramis said.
Mektic and Ramis said that they reach an agreement about the establishment of a regional initiative for a common struggle against terrorism and the smuggling of weapons from the Western Balkans to Western Europe, which is used for terrorist purposes. Mektic said that BiH Ministry of Security has launched an initiative, which should be agreed on the 17th and 18th April in the framework of the "Brdo process" in Slovenia at the conference of Interior ministers. After the conference the initiative would be signed, followed by a political statement of its establishment.
He emphasized that there are many other common France-BiH security challenges, such as fight against corruption, and contribution of corruption to terrorist activities, which is reflected in money laundering, as well as the fight against human trafficking.
For many years, he said, there have been smuggling channels from BiH to France when it comes to human trafficking and human smuggling. Ramis emphasized that last year's international action codenamed "CD", is an example of how countries should cooperate in the fight against trafficking.
The action was led by investigation team of police and prosecutors from France and BiH and the aim was the arrest of persons suspected of organized crime and human trafficking for labor exploitation, theft and begging. France-BiH teams had very successful cooperation in several cases and the most important of them is the "Radinkovic group" arrest. Nenad Radinkovic, from Banja Luka, and four other BiH citizens were arrested in France and, during the search of the vehicle, police found 11 AK47 shot guns, 17 guns, other weapon and ammunition. All of them were sentenced in France but the police suspect that Radinkovic sold many other weapons to various criminal and terrorist groups.
In BiH Radinkovic was sentenced on four years in prison because he killed a young man in a car accident.
(Photo: FENA)