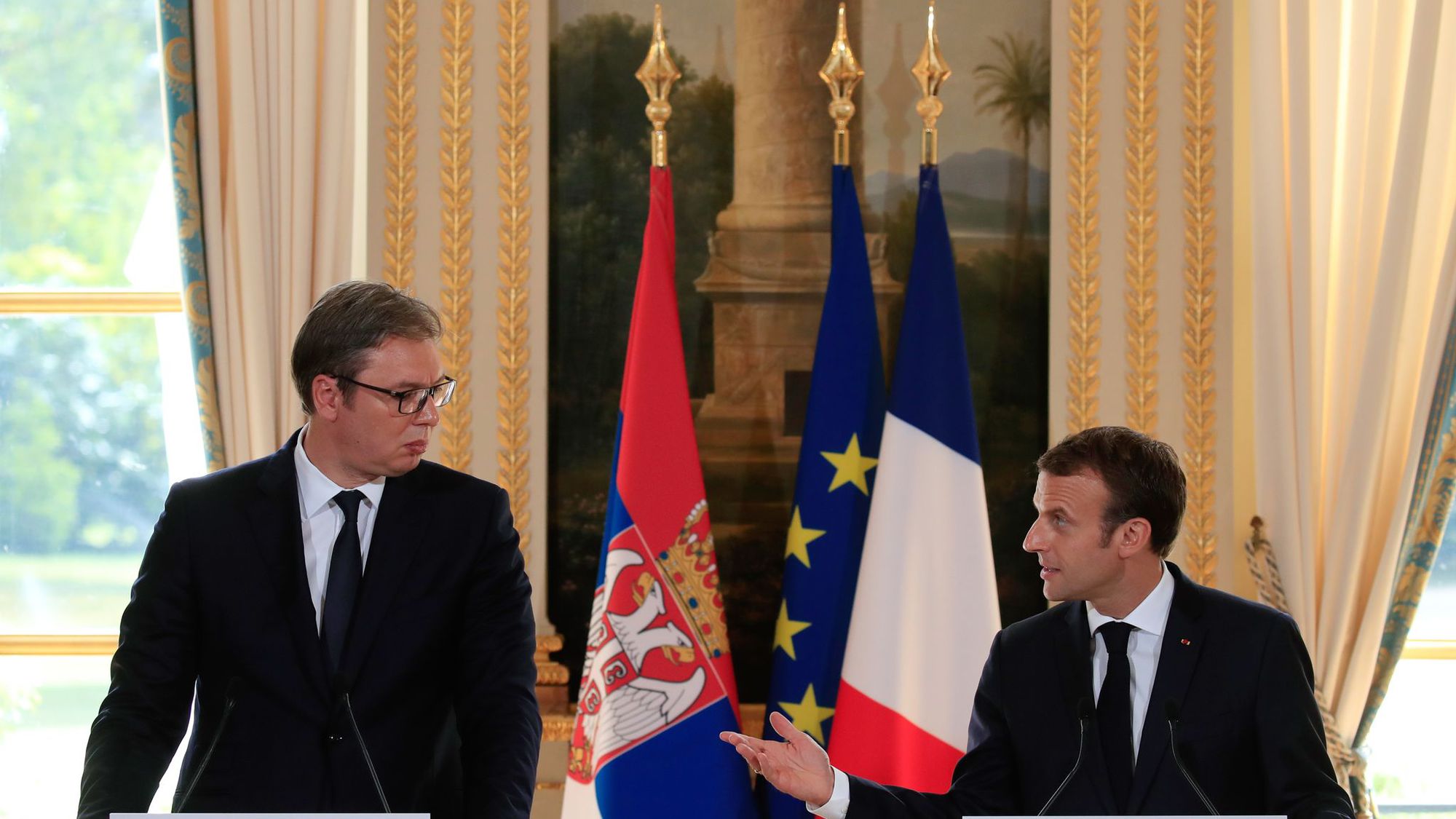 Days after Serbian president was marginalized at the ceremony in Paris, held to mark the centenary of the World War I end, officials, analysts and media are attempting to interpret how such a "mistake" could have happened.
At the event in Paris on Sunday, Aleksandar Vucic as the representative of the country that lost more than one million of its people from 1914 to 1918, got a place far away from the heads of states or governments of France, United States, Germany, United Kingdom and Russia.
At the same time, presidents of Kosovo and Croatia Hasim Taci and Kolinda Grabar-Kitarovic were accompanied by Emmanuel Macron, Donald Trump and Vladimir Putin.
Vucic's decision not to abandon the manifestation was courageous, said defense minister Aleksandar Vulin. "He has made a courageous and statesmen-like decision", Vulin said on Monday.
Serbian press continued to tackle the issue today. "France begs Serbia for forgiveness", according to main headline in semi-state owned Vecernje novosti. "The French have clearly showed they support for Thaci", says the headline of the Danas, daily which sharply criticizes Vucic's government.
"The French have spat in Serbia's face and now they regret it", according to tabloid Kurir.
Did France forget the 1,247,425 Serbian victims – says the comment of the Radio-Television of Serbia (RTS) website. "The initial explanation (of France) that the attendees have gotten their places in alphabetical order was obviously false; Serbia was between Austria and Latvia".
"The move of the French protocol has rather something to do with the balance of power at the international stage, as well as with the priorities of French internal and foreign policy", according to RTS.
"If a young man who didn't not know much about World War had seen the loge in Paris, he would have though that the main war parties were Monte Carlo, Marocco and Kosovo, alongside with France, Great Britain, Germany, U.S. and Russia", said Slobodan Zecevic from the Institute for European studies.
Frederic Mondoloni, French ambassador in Serbia, thanked Vucic for attending the ceremony.  "At the very last moment an mistake occured, which is regretable. We ask the president and the people of Serbia to accept our apology", said Mondoloni on Sunday.
Vucic accepted the apology and promised a "spectacular welcome" for the French president in Belgrade.
Emmanuel Macron is to visit Serbia in the winter./IBNA