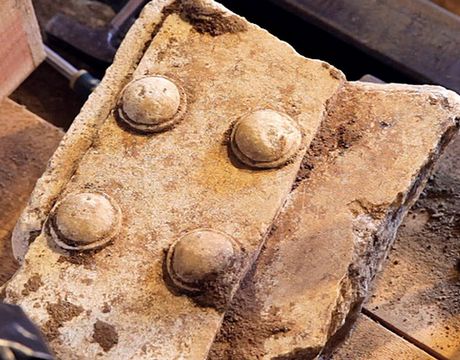 By Spiros Sideris – Athens
Fragments of a marble door were exposed by the removal of soil in the third chamber tomb of Amphipolis, which proves that this is some kind of Macedonian tomb. The door is also made ​​of thassian marble and has studs that mimic nail head, while on the western side of the door, there is a "pivot" (hinge).
As archeologist Peristeri explained, "the fall of the sections of the marble door was caused either by the bombing the area suffered of the shells of the Bulgarians in 1913 or the earthquake of 6.8 on the Richter scale that occurred in the 6th century AD or earthquakes which occurred in the 19th century. We cannot know if there was an attempt to loot the tomb, only excavation will show us", said Peristeri.
"The door we found reinforces our view that this is a tomb and we have an amazing funerary complex, which belongs to the last quarter of the 4th century BC", said Katerina Peristeri and continued: "We are progressing well. The excavation is progressing very well and we hope to know as soon as possible, when the excavation is complete, and we will be able to tell you more things".
The question from  journalists on whether she can assess who is the resident of the tomb, Peristeri replied: "It's too early. If the excavation is not concluded, archaeologists cannot tell who is, who is not inside".
Regarding those who are quick to doubt, or to express their views on the findings of the archaeological research the Head of the archaeological team responsible for the excavation in Amphipolis merely said "we do not concern ourselves with the bad reviews. We try to keep everyone updated, from the last citizen to the expert, the scientist".